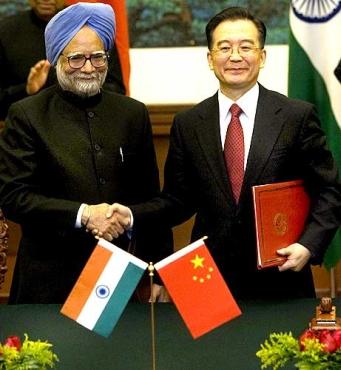 It is only a matter of time before India and China sign a bilateral trade pact, as there is too much at stake for the Asian giants to ignore each other, according to a Singapore-based advocate and solicitor.
"There is too much at stake between the two giant economies to ignore each other and the changing trends in the global economy mandate a complementary trade pact, which will be beneficial to both," said Aloysius Wee, managing partner at Singapore-based Dacheng Central Chambers LLP, a Singapore-China joint law firm.
"We must acknowledge the competitive importance of India and China as global players, though friction and confrontational issues are still pending between the two countries," he said.
Wee supported his observations with recent trade statistics, citing the general consensus that India and China trade could cross $60 billion by the end of this year, nearly double the 2007 figure of $38.68 billion.
He also highlighted global projections that India and China would eventually become the world's two leading economies and suggested New Delhi and Beijing would have to consider a bilateral free trade agreement to facilitate sustained growth of both the economies and achieve trade goals.
However, Wee noted that framing such a complex bilateral trade treaty would be a 'massive and mammoth' task for both India and China, as the two countries have completely different business and legal systems.
However, he emphasised that the process was not impossible and was slowly taking shape.
He cited the example of Chinese state-owned companies working on Indian infrastructure projects and the exponential growth of Indian IT and IT-related companies operating in China.
"For these and many other reasons, something will have to be agreed in respect of trade, as a free trade agreement would be the next logical step towards the maturity of the business relationship between India and China," stressed Wee.
An increasing number of trade exhibitions and conferences held in China in recent years have seen growing levels of networking between businessmen from the two sides, according to Wee, a regular advisor on China-India cross investment matters.
In addition, sixty years of India-China diplomatic ties was celebrated at a recently held China-India Business Forum in Chengdu, the capital of Southeast Chinese province of Sichuan, Wee pointed out.
Dacheng, with a network of 1,400 lawyers in China and the Asian region, has been involved in such forums, including the Global Diaspora Business Summit involving Chinese and Indian businesses that was held in July this year at Shenyang, the capital of the northeastern Chinese province of Liaoning.
Dacheng set up an India desk last year under the stewardship of lawyer Rahul Singh Talwar and initiated a "best friend" relationship with New Delhi law firm Vaish Associates.
Both Wee and Talwar have been advising clients on the legal framework for doing business in India and China.
"With the growing number of businesses and deals, there is a strong need for legal advisers who operate in multi-jurisdictional spaces, especially in arbitration cases," said Talwar, pointing out that Singapore is emerging as a major arbitration centre for global corporates, including companies from India.
Talwar noted that Indian businessmen were more comfortable with using Singapore as a spring board into China rather than directly entering China and asserted that Dacheng is strategically positioned to give advice on legal and even commercial aspects of doing business in the country.
Talwar, well versed with India-China affairs, said, "One of the issues relating to the free-trade agreement between India and China is the constant stance of the Indian authorities that bilateral trade is not balanced and they fear that such an agreement would have a negative impact, adversely affecting Indian interests."
Though there must be some merit to the argument, Talwar pointed out that the Chinese were already working towards favourable policies in sectors in which Indian companies have a competitive advantage.
"Even though currently the bilateral trade between India and China is lopsided in favour of the Chinese, we believe that if Indian companies operating in the IT, hospitality and pharmaceutical spheres realise their true potential in China, then the balance will be corrected in the medium term and may even tilt in the favour of the Indians," he said.
Image: Prime Minister Manmohan Singh with Chinese Premier Wen Jiabao. Photograph: Reuters