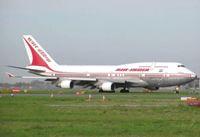 Growing air traffic in India, China and Latin America has led to a rebound in the global aviation market, which grew by 16.5 per cent in April, despite the high oil prices, the Iceland volcanic eruption and Japan tsunami that hit air travel.
Over the last five years, Indian domestic market expansion has been the "strongest with a tripling in size", a latest report of the International Air Transport Association said.
In spite of such "significant" growth in demand, the profits of the airline industry were being squeezed by a series of crises and shocks that have marked the first four months of this year, it said.
"Their impact on demand will continue to ease as we move into the second half (of this year),"
IATA chief Giovanni Bisignani said in New Delhi.
India and Brazil showed the strongest domestic growth at 25.6 and 23.8 per cent respectively.
"Both are continuing their trend of high-speed growth," the report said, adding China's domestic market saw a decline in growth to 10.8 per cent this April though it remained a robust market.
"Over the last five years, Indian domestic expansion has been the strongest with a tripling in size. China and Brazil doubled in size over the same period," it said.
"The strength in Chinese and Indian markets helped offset the weakness in routes associated with Japan. Japan's international traffic is down 20 per cent, knocking a full one per cent off of total international travel," it added.