India purchased US Treasury securities worth $3 billion in July taking its total holdings to $39.4 billion, at a time when America, the world's largest economy, is grappling with slowing recovery.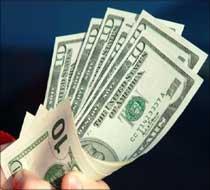 This is for the second straight month that India has bought these securities, after buying Treasury bills to the tune of $7.1 billion in June. The latest data from the US Treasury Department shows that India owned American securities worth $39.4 billion in July as compared to $36.4 billion in the previous month.
India held $29.3 billion worth Treasury bills in June. Neighbouring China continues to remain the largest holder of US securities, with a total holding of $846.7 billion in July while the same stood at $843.7 billion in May.
China has increased its holdings at a time when the country is under pressure from the US to revalue its currency yuan, whose low value is blamed for rising trade imbalance.
Interestingly, China had offloaded American securities to the tune of $24 billion in June.
Japan too hiked its US securities holdings to $821 billion in July from $803.6 in the previous month.
Despite massive stimulus measures, the American economy is slowing and continues to face high levels of unemployment.