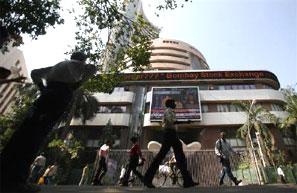 The BSE Sensex rose more than 1 per cent on Friday, making India the best performing equity market in Asia-Pacific for 2014 in dollar terms.
The benchmark has gained 2 per cent this week on continued hopes the incoming Narendra Modi government would unveil substantial economic reforms.
Gains were also helped as State Bank of India surged after reporting bad loans fell in January-March, sparking a rally in other state-run lenders.
Modi will be sworn in on Monday, ushering in the new Bharatiya Janata Party government, and investors will first focus on his cabinet appointments, especially the finance ministry portfolio. The administration would then need to unveil a new budget by early July.
Still, not all analysts are as optimistic. Deutsche Bank downgraded Indian stocks to "neutral" from "neutral/overweight" relative to other global emerging markets, saying valuations, appeared "very stretched."
"Earning multiples look a little stretched for short term. July budget would be the next check point for this rally," said Alok Roongta, chief financial officer at Bharti AXA Life Insurance.
The BSE Sensex rose 1.3 per cent, or 318.95 points, to end at a record closing high of 24,693.35, although the index is still around 3 per centage points away from the all-time high hit last week.
This brings the Sensex's gain so far for the year in dollar terms to 23.71 per cent in 2014, compared to the next best performer, Indonesia's IDX Composite which gained 22.7 per cent.
The Sensex rose 2.4 per cent for the week, marking its third consecutive weekly gain.
The broader Nifty rose 1.25 per cent, or 90.70 points, to end at 7,367.10, posting a weekly gain of 2.3 per cent.
SBI surged 9.6 per cent, after earlier hitting its highest since May 2011. The state-run lender said net non-performing loans as a per centage of total assets fell to 2.57 per cent in the March quarter from 3.24 per cent in the preceding quarter.
SBI's share gain was its biggest single-day advance since Sept. 5, 2013.
The results at SBI sparked gains in other state-run banks, with Punjab National Bank rising 5.4 per cent.
Also, hopes of reforms in the power sector by the new government continued to drive shares in the sector.
NTPC Ltd rose 3.9 per cent and Tata Power Co gained 6.4 per cent.
Ashok Leyland Ltd surged 13.7 per cent after the company's January-March operating profit of 1.84 billion rupees ($31.5 million) beat some analysts estimates.
Reliance Communications rose 4.2 per cent after the Financial Times reported that the company was in talks with China's Citic Telecom over an undersea cable joint venture, citing unnamed people familiar with the talks.
Among decliners, Motherson Sumi Systems Ltd fell 1.5 per cent adding to Thursday's slump of 2.3 per cent after operating margins at its European unit Samvardhana Motherson B.V. lagged some analysts estimates in the January-March quarter.
ITC Ltd, India's largest cigarette maker, ended 0.8 per cent lower despite Jan-March earnings beating estimates as traders continued to move out of defensives to domestic cyclicals.