Australia and India are all set to hold the first preliminary round of Free Trade Agreement (FTA) negotiations in India by the end of this month, according to Australian High Commissioner to India Peter Varghese.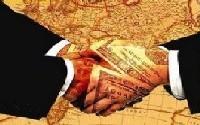 "Negotiators are currently doing consultations with the industry, stakeholders and then they will meet at the end of this month in India," Varghese said.

Varghese stressed that though the two sides were not naive about the challenges involved in the proposal, there was a strong expectation that there was something fruitful in store for the two.

In May this year, Indian Commerce and Industry Minister Anand Sharma met Australian Trade Minister Craig Emerson in Canberra, where it was agreed by both sides to start negotiations on a comprehensive economic cooperation agreement.

India had already given the green signal to negotiate for an FTA with the Australian side following the completion of a feasibility study showing each side would gain more than $ 30 billion over 20 years from lowering barriers.

Australia's trade with India has been growing rapidly, with exports, dominated by gold and coal, soaring from $ 11.8 billion to $ 20.0 billion in the past two years.

Trade is heavily in Australia's favour, with imports in the past year of only $ 2.5 billion from India.

The Australian side has been particularly interested in improving the ability for Australian services firms to operate in India, while Australian farm producers want improved access to Indian meat markets.

India also wants to improve opportunities
for its services exports to Australia, including information technology.
Emerson said Indian business was keen to invest directly in Australia. A free trade agreement with India was first canvassed under the Kevin Rudd government, with the feasibility study completed last July.
Barghese said the interests of India and Australia were converging fast and in a way that they had not been for a long time.
"It provides a very good basis to build the strategic partnership we both want to do. Economic relations are booming, particularly in terms of trade and investment. The more we build that up, the easier it will be to broaden the relationship into non-economic relations areas," Varghese said.
However, Varghese said the process to bridge the two sides differences would, however, take time.
"It's now a question of patiently building substance into the relationship... the more substance we have, the more capable we will be in dealing with any differences or views or issues that come out of the left field and could disrupt the bilateral ties. I think that's what we are doing, particularly on the economic front," he commented.
"Firstly, the trade, that will be central. It's going to be the load-bearing pillar of the relationship. That is developing very well and we are looking at a 20 per cent growth rate for the next five years in exports and imports," he suggested.
"We are now seeing serious numbers in terms of investment into the coal sector, so that part of relationship is at a very good dynamics and we have got the FTA negotiations," Varghese said, adding it was now a question of time to see how far the two sides' relationship could go.