India and Australia on Thursday announced the launch of formal negotiations for comprehensive market opening pact and agreed to double bilateral trade to $ 40 billion in the next five years.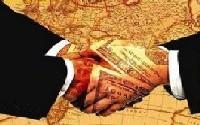 "It was agreed that the first meeting for this purpose (starting of negotiations for comprehensive economic cooperation agreement) would be scheduled by June or July," India's Commerce and Industry Minister Anand Sharma told reporters at a joint press conference with Australian Trade Minister Craig Emerson in Canberra, Australia.

The first round of talks will be held in New Delhi, he said. Sharma also said that both the countries have agreed to double their bilateral trade from $ 20 billion at present to $ 40 billion during the next five years.

He said free trade agreement is important to enhance economic integration to enable trade and investments to flourish.

Both sides also discussed the work being done for economic engagement including negotiations on double taxation, social security and film production.

"The FTA will help in removing non-tariff barriers that impede trade and services, facilitating investments and addressing the behind the border restrictions to trade," Sharma said.

"We are also looking at enhanced cooperation with the Australian entrepreneurs in pharmaceuticals and other sectors to increase the share of Indian exports to Australia," he added.

India is Australia's third largest export market. Both the sides also announced the setting up of a CEO's Forum which would be co-chaired by Congress MP and industrialist, Naveen Jindal from the Indian side and Linday Fox from the Australian side.

The forum would provide business guidance and advice to the governments of both the countries, Emerson said.

A joint statement said that both the ministers discussed the ways in which Australian resources and energy exports to India can serve as a crucial motor of Indian economic growth.

"They encouraged business to look beyond the tangible trade in coal, gold, and copper and consider how mining services, expertise and technology sharing could increase productivity on both the sides particularly in the areas of mineral exploration, extraction and benefaction and the development of technologies for natural resources," it said.

The Ministers also mentioned about the cooperation between the two countries in the agriculture sector including agreement to establish a Joint Working group on agricultural cooperation.

"India has a focused objective in the agri sector to modernise further its post harvest technologies and welcomes 100 per cent foreign investment in the agri and food processing sector," the statement said.

Both the ministers also recognised opportunities to broaden and open the education relationship including in the delivery of education and training by Australian institutions in India, it said.

The statement said India and Australia also discussed increasing institutional collaborations in skills development and harmonisation of qualifications frameworks of educational institutes on both sides.

Sharma also called on the Australian Prime Minister Julia Gillard and discussed issues of bilateral interest. He also met Foreign Minister Kevin Rudd and four other Cabinet Ministers of the Gillard Cabinet and held bilateral talks.

The statement further said that there is scope to expand trade in services in addition to education, hospitality, health, ITeS and tourism.

"There is considerable potential in financial and legal services," it said. Emerson underlined the willingness of Australian financial institutions to participate in banking, insurance, asset management and infrastructure financing in India.

"It was also noted that collaborative efforts in service industries such as architectural services, e-learning, film making and computer aided designing would result in substantive benefits to both sides," the statement added.