Prime Minister Manmohan Singh unveiled a new India aid package for African nations on Tuesday, of $6 billion, and a comprehensive range of initiatives covering various social and economic sectors.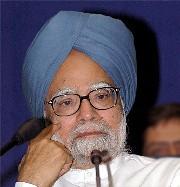 At the plenary session of the second Africa-India Forum Summit, there were representatives from 15 African nations sitting with him.

The PM offered a $5 bn line of credit (LOC) for the next three years, an additional $700 million to establish new institutions and training programmes, and $300 mn to support the development of a new Ethiopia-Djibouti rail line.

This last bit is part of a thinking to strengthen our presence in African infrastructure, now dominated by China.

Currently, India's LOC commitments towards Africa are $2 bn. At the first Forum Summit in 2008, New Delhi announced an LOC of a little over $1 bn a year.

"We will offer $5 bn for the next three years under lines of credit to help Africa achieve its development goals. Under the lines of credit that we offered at the first Summit, we had specifically looked at promoting regional integration through infrastructure development," Prime Minister said here, 24 hours before the continent celebrates Africa Day.

He also proposed an India-Africa Business Council, to bring together business leaders from both sides.

"We should encourage trade and investment flows, as well as transfer of technology. The private sectors should be fully involved in the efforts to integrate our economies," PM said in his speech at the summit.

Singh also pledged an Indian contribution of $2 mn for the African Union Mission in war-hit Somalia.

Realising "one of the biggest gaps in our interaction is insufficient air connectivity" the Prime Minister announced "high priority" to the sector and a significantly increased access of African airlines to Indian cities in the next three years.

From creation of virtual universities to increase in scholarships and setting up agricultural centres, the PM's Africa package was quite substantial.

India proposed to set up an India-Africa Food Processing Cluster to contribute to value addition and the creation of regional and export markets, and a similar Textiles Cluster to support the cotton industry and its processing and conversion into high value products.

Singh maintained that India would like to build on the success of its Pan-African E-Network Project and proposed more for the next level.

Education is regarded as a strong area in India among other developing nations and Singh promised an "enriching experience" for African students who would come to India for studies.

"Our total commitment for the next three years by way of scholarships to Africa students will stand at more than 22,000," the PM said at the Summit.