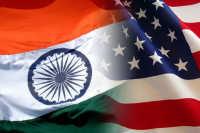 US Secretary of Labor, Hilda L Solis, and India's Minister of Labour and Employment, Mallikarjun Kharge, on Thursday signed a memorandum of understanding at the Department of Labor in Washington DC, to cooperate on future labour and employment issues.
But two of the most contentious issues plaguing Washington and New Delhi - child labor and the totalization of social security for Indian nationals working in the US and who have worked in the US previously and contributed a part of their earnings to retirement fund to the tune of over $20 billion - did not figure in the discussions, even marginally.
The memorandum signed between Solis and Kharje, establishes a framework for conducting dialogue and cooperative activities between the United States and India on labor and employment issues that include specifically skill development, youth employment, occupational safety and health, and mines safety and health.
American trainers and technical know-how will be provided to India to assist in these areas.
The MoU, is an outgrowth of a 2010 meeting between Secretary Solis and Minister Kharge following a conference of the G20 labour and employment ministers hosted by the US Department of Labor.
Solis said: "Our governments share a firm commitment to workers and their rights. Today marks the launch of a new programme to share valuable information that will ensure that workers' rights are respected."
Kharje predicted that "the road map laid down in the Memorandum of Understanding will facilitate very close cooperation and interaction between our two countries and bring about improvements in the life of workers and working conditions."
The minister said that he had informed his counterpart that India, in addition to these four major areas, was also interested in receiving American expertise "and interested in increasing our know-how in the areas of accreditation systems, self-regulation and auditing through collaboration, exchange and sharing of ideas, etc".
Kharge said he had also told Solis that India looks forward for a possible tie-up for training and information training and information exchange in areas of underground and open cast mining, disaster control and emergency management, statistical analysis and development of data banks.
Also, towards working together for furthering knowledge in areas of occupational diseases, toxicology and occupational medicine.
He said that this was all in keeping with Prime Minister Manmohan Singh's "vision of skilling 500 million persons by 2022."
Later speaking to journalists at the Ritz-Carlton Hotel, Kharge pressed on whether the child labor issue in India was brought up by the US, which has been of deep concern, especially in Congressional circles leading to a ban on some types of Indian garments and rugs, said: "The child labour question doesn't arise here. As far as child labour is concerned, there is nothing to do with this.
"And already, child labour is reduced and you know that we have given all the statistics, so I don't want to involve in this in any way here," he asserted.
Kharge kept noting that this MOU was "historic" because "this is the first time that the Labor Department of India and America has signed MoU on key issues."
He also said the totalization of Social Security issue also had not been discussed.
"So I don't want to comment on that. And, at this stage, it is not good to talk about that."
Indian Ambassador to the US, Nirupama Rao, who also participated in the briefing and had earlier accompanied Kharge to the meeting with Solis, said, the totalization of Social Security for Indian nationals working and who have worked in the US, "is a matter of ongoing discussions with the American side".
Rao said: "They have to now come up with a solution to this issue. It is a continuing topic of important discussions between the two countries. So it's really now for the US side, where we are hoping for a positive result."
Click here for Rediff Realtime News!