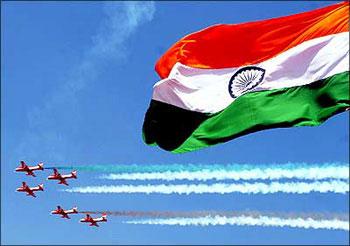 Iranian President Mahmoud Ahamadinejad on Tuesday described India as a global leader and an economic powerhouse during a 30-minute interaction with visiting Indian Foreign Minister S M Krishna.
An external affairs ministry spokesman said that the two leaders met for about 30-minutes, during which they discussed bilateral, regional and international issues of mutual concern and interest to the two countries.
According to the spokesman, Ahamadinejad said India has always played an important role in global affairs, including in organisations like the Non-Aligned Movement (NAM) and the Group of Fifteen (G-15).
He further said there is a desirability and need for India and Iran to be in touch and to work together. He also said he was very happy to see India's economic progress, which expands beyond regions.
The spokesperson said both leaders also discussed developments in Pakistan and Afghanistan.
According to the spokesman, Krishna recalled the Iranian president's visit to India and congratulated him for the successful organisation of the G-15 Summit.  
The meeting was described as warm and cordial. 
Krishana is concluding his visit to Tehran on Tuesday.
On Monday, he met his Iranian counterpart Manouchehr Mottaki on the sidelines of the summit and discussed ways to enhance bilateral relations.
Mottaki recalled India's contribution to NAM and other multilateral organisations.
On Sunday, Krishna had a meeting with the Speaker of the Iranian Parliament Ali Larijani at the Majlis, where both discussed regional issues of common concern, including the prevailing situation in Afghanistan.
The meeting lasted for about 45-minutes. Krishna apprised Larijani about Indian Prime Minister Dr. Manmohan Singh's recent meeting with his Pakistani counterpart Yousuf Raza Gilani in Thimphu (Bhutan).
He also conveyed India's desire to have more cooperative and cordial relations with Pakistan, but told Larijani that terrorism remains a core concern in bilateral ties between New Delhi and Islamabad.
Larijani noted that terrorism is a common challenge for both countries and there is a similarity of outlook.
Both also expressed happiness over New Delhi hosting the upcoming 16th India-Iran Joint Commission meeting, and added that it was the desire of the two nations to boost ties in all sectors, as bilateral trade has crossed the 14 billion dollar mark.
Iran's Deputy Foreign Minister Fathallahi was also present.