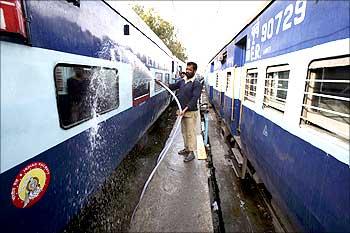 A train from this sleepy Indian village crossing the international zero line and entering Bangladesh is the dream of Daghu Miah.

Miah, a septuagenarian peasant, does not have any objection to his paddy field being acquired for the proposed railway station linking the two countries, though his land is the only means of livelihood for him and the families of his three sons.

Railways officials have made visits and marked 12 bighas of land with the maximum amount belonging to Miah.

He, however, is apprehensive whether the Railways will provide him the proper value for the land.

"I will have no problem if I can manage to procure the same amount of land elsewhere with the compensation given by Railways. But, I fear the money given during acquisition may not be enough," he told PTI.

The Indian Railways recently approved Rs 267 crore (Rs 2.67 billion) for laying a 14 km railway track to
connect Agartala, Tripura's capital, with Akhaura in Bangladesh.
The Northeastern Frontier Railway is likely to undertake work for laying tracks by October next year, special secretary to transport department Kishore Ambuly said.
'While the Department of North Eastern region will pay Rs 105 crore (Rs 1.05 billion) for construction of the railway line on the Indian side, the Ministry of External Affairs will provide the rest to carry out the project in Bangladesh.
Asked if he was ready to provide land for proposed railway station adjacent to his dwelling place, Mubarak said, "If land is required why shall I oppose it?
Even if they pay 10 per cent less than the normal rate, still I would say yes. This will benefit the country."
President of the Tripura Chamber of Commerce, M L Debnath said that the Agartala–Akhaura link would shorten the distance between Kolkata and Agartala from 1675 km to 350 km, and boost trade, commerce and tourism between Bangladesh and India.