Adidas' profit after tax has grown to Rs 140 crore in 2017-18.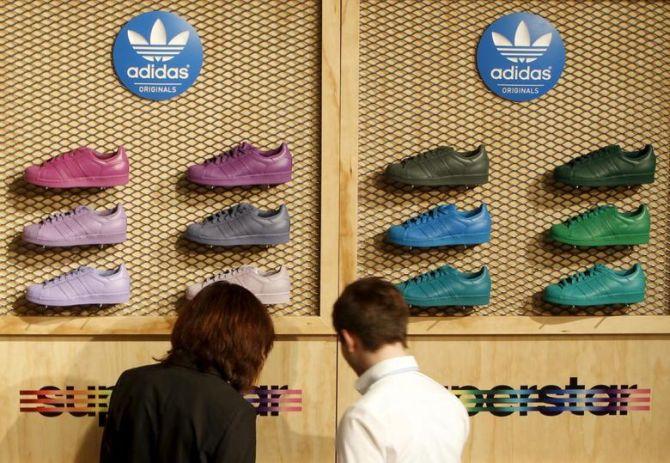 Adidas has trumped its German sportswear rival Puma in the race to shore up profit in India.
As of December last year, Puma surpassed its closest rival Adidas to become the largest sportswear brand in India but it continues to lose money in the country.
The journey of two of the largest sportswear brands - both from Germany - are on divergent paths in the local market.
Closest rival Adidas, however, has managed to improve its bottom line in recent years.
Group company Reebok India, too, has shown improvement in margins.
During the last two years, Puma has managed to grow its business steadily.
And it overtook Adidas by posting Rs 1,157 crore revenue in the calendar year 2018 - 12 per cent higher than the previous year.
In 2017, the firm grew its business by 12.5 per cent.
However, data available at the Registrar of Companies show, Puma posted Rs 5.2 crore net loss and Rs 7.2 crore net profit in 2018 and 2017, respectively.
The company follows a calendar year format for financial reporting.
In the last two financial years, Adidas' top line growth remained unstable.
While in 2016-17 its revenue grew 22.4 per cent to Rs 1,100 crore, last year its business remained flat at Rs 1,131 crore - 2.8 per cent higher year-on-year.
The firm's profitability, though, improved significantly. From Rs 34 crore net profit in 2014-15, Adidas' profit after tax has grown to Rs 140 crore in 2017-18.
In the past four years, Adidas' net profit margin jumped three times to 12.4 per cent - highest among rivals.
Group firm Reebok India, which was in the red till 2015-16, has improved its margins too.
It turned profitable in 2016-17 and a year later improved its net profit margin to 8.7 per cent despite a dip in sales.
Puma's troubled bottom line is a reason to worry.
It was in the red for two of the last four years, but it is not uncommon in the local market though.
The third largest player, Nike, has suffered heavy losses in recent years.
After faltering in 2016-17, Nike's revenue in India grew in 2017-18 to Rs 829 crore.
But its bottom line remained in the red.
In 2017-18, Nike posted Rs 52 crore net loss.
However, the firm has reduced the amount of money it is losing every year since 2015-16 - from Rs 170 crore net loss in that year.
Italian-South Korean sportswear brand Fila, currently the fifth largest player in India behind Reebok, posted Rs 12.3 crore net loss last year - lower than Rs 13.7 crore it posted in 2016-17.
The firm's revenue, however, grew by 34 per cent.
At a time all major MNC sportswear companies have struggled to improve their margins, mostly due to a price-sensitive local consumer base, the latest numbers reflect Adidas' strategy to weed out non-performing stores and focus on larger and profitable outlets.
The accounting fraud at Reebok India in 2012 had forced the Adidas group to overhaul its operations.
Despite the company's prominent presence in large markets such as Mumbai, Chennai, Delhi and Bengaluru, sales growth at Adidas remained either in single digit or low double digit between 2012-13 and 2015-16.
The net profit margin was stuck between 1.88 per cent and 4.78 per cent. But that was also the time when the turnaround began.
Soon after taking charge in 2014, Dave Thomas, managing director of Adidas India, was puzzled by the trend of low margin.
"It became evident that while earlier smaller stores were selling products and were considered low risk propositions by Indian partners, it was a drag on our business.
"So, we decided to shut down many of the smaller stores and replace these with larger ones.
"Today, larger stores, with wide ranges and separate product sections, offering a world-class buying experience, are lifting our business.
"People stay longer in these stores, the chances of conversion go up and so is the average ticket size," Thomas had said in September.
Adidas also parted ways with many local partners who were not aligned with the new plan. Despite flat growth in store count, the weeding has resulted in bigger store space.
Now, Adidas has 436 stores, including company owned and franchise-run, and 203 franchise-run Reebok stores. In some cases, a simple change in franchise partners had resulted in improved sales.
Photograph: Michaela Rehle/Reuters