Part of periodic Article IV consultations on state of the economy; team to have discussions with government as well as banks, private investors and civil society


The International Monetary Fund (IMF) is likely to send a team to India in the third week of November, for consultations with various people about the health of the economy, officials said.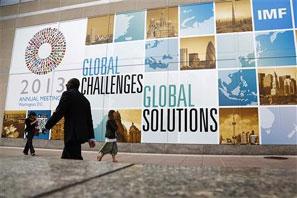 As already reported, the Fund expects India's economy to clock an 11-year low in yearly growth in 2013-14, of 4.25 per cent.

In what is technically called Article IV consultations, IMF economists visit a member-country to gather information and discuss with government and central bank officials, private investors, labour representatives, members of Parliament and civil society organisations.
The mission then sends a report to the IMF's executive board. The board's views are summarised and provided to the country's authorities. The previous IMF report under Article IV consultations on the Indian economy was in January this year. It blamed domestic factors as well for a slowing growth rate, even as policy makers here had largely blamed global factors.

Earlier this month, the Fund issued projections for India's economy, saying it expected economic growth at just 4.25 per cent for the year, when the finance ministry had said it expected more than five per cent. The economy had clocked a decadal low in growth of five per cent in 2012-13.
The government contended the Fund had not factored in the expected bumper crop and the decisions taken by the Cabinet Committee on Investment to clear stuck infrastructure investment. The Fund attributed its projections to poor demand and weak performance in the manufacturing and services sectors. Finance Minister P Chidambaram had termed these projections pessimistic.

Officials here had also said economic growth was invariably higher than what was predicted by the IMF, closer to the World Bank's estimates. Last week, the World Bank had also cut India's growth projections, though to 4.7 per cent, for 2013-14, against its earlier prediction of 5.7 per cent.

When a query was posed on these to Chidambaram on Tuesday at a press conference, he had said there were differences between the IMF's and the World Bank's methodologies. "These are (only) estimates," he had said.

The IMF usually issues projections based on gross domestic product (GDP) at market prices, basically including indirect taxes and subtracting subsidies from GDP at factor cost, a methodology adopted by the World Bank and India.

However, once a year, the IMF does come out with growth projections based on GDP at factor cost. The 4.25 per cent projection by it was based on this. When asked if there were differences between the Fund and the Bank on ways to calculate growth based on GDP at factor cost, the former's economist in India, Sudip Mohapatra, replied: "How can there be?" The assessments (of the economy) are different, say other economists.

Not on same page
Earlier this month, IMF had said it expected economic growth for India at just 4.25 per cent for FY14
The Fund attributed its projections to poor demand and weak performance in the manufacturing, services
Officials in India said growth was invariably higher than what was predicted by IMF