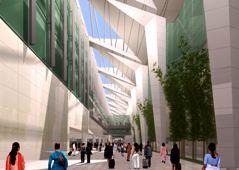 The IGI airport has been adjudged the 'best improved airport' in terms of quality of services in the Asia-Pacific region by an international body.
The airport, which handles around 24 million passengers per year, was also ranked fourth in the category of airports witnessing 15 to 25 million footfalls by Switzerland-based Airport Council International for the year 2009.
The ACI every year conducts survey of the airport service quality of 1,633 airports in 179 countries.
"The airport's ASQ rating has improved from 3.02 in 2006 to 4.16 in 2009 on a scale of 5," a spokesperson of DIAL, a GMR-led consortium that operates the airport, said.
The ACI has identified various factors essential for high customer service ratings including ambiance, cleanliness of terminals, comfort of the waiting areas, availability of washrooms, cleanliness of washrooms, helpfulness of the airport staff, passport or identity inspection experience and good shopping facilities.
GMR Group chairman G M Rao and DIAL CEO P S Nair termed it 'a matter of pride' and said, 'with the opening of new integrated terminal the airport's rating would surly improve.'
ACI has also ranked the Rajiv Gandhi International Airport at Hyderabad as the best in the category of airports handling five to 15 million passengers.
The survey result was released in Geneva by ACI director general Angela Gittens.
The awards would be presented to the successful airports in May this year during the Asia-Pacific Region's Annual Conference in Sanya, Hainan in China.