ICICI Bank had posted a post-tax net of Rs 3,084 crore on a consolidated basis in the January-March quarter of last fiscal.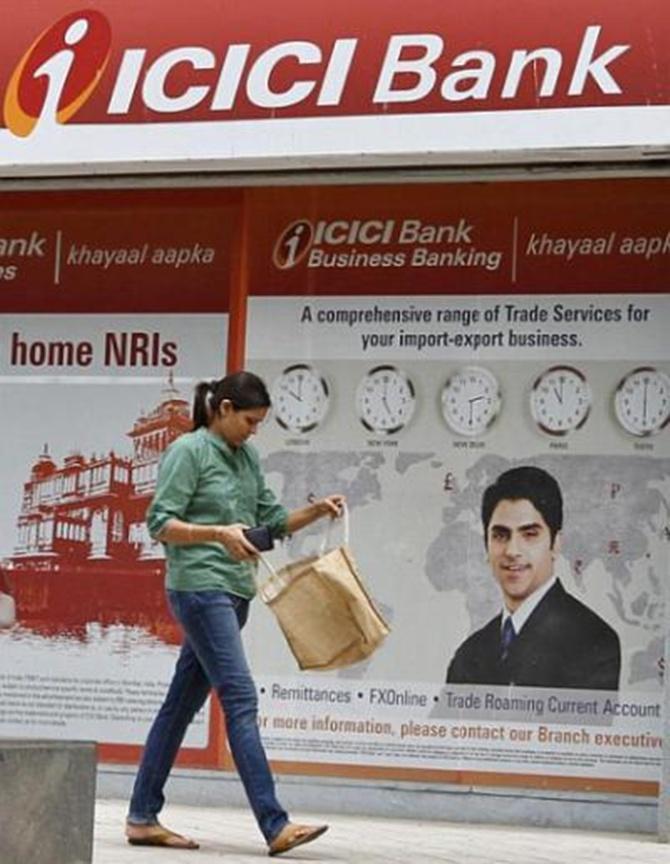 ICICI Bank on Friday reported its worst numbers in over a decade with consolidated net profit plunging 87 per cent in the March quarter at Rs 406.71 crore (Rs 4.06 billion) due to a spike in provisioning for bad loans.
Higher provisioning is in view of the Reserve Bank's asset quality review (AQR) as well as expectations of further bad loan issues at the country's largest private sector lender.
The Chanda Kochhar-led bank had posted a post-tax net of Rs 3,084 crore on a consolidated basis in the January-March quarter of last fiscal, and Rs 3,122 crore (Rs 31.22 billion) in the preceding quarter, when it started recognising the effects of bad loans following the AQR.
On a standalone basis, the bank's net profit tanked 76 per cent to Rs 701.89 crore (Rs 7.01 billion) from Rs 2,922 crore (Rs 29.22 billion) a year ago.
Profit for the reporting quarter eroded on setting aside of Rs 3,600 crore (Rs 36 billion) towards "collective contingency and related reserves", above the RBI-mandated provisions in view of the stress it expects from the iron & steel, mining, rigs, power and cement sectors in the future, the bank said.
As of the December quarter, ICICI Bank, which is one of the two systemically important lenders (the other being SBI), did not have a counter-cyclical buffer unlike its private sector peers.
"The weak global economic environment, downturn in the commodity cycle and the gradual nature of the domestic economic recovery has adversely impacted borrowers. It may take some more time for the resolutions to be worked out," Kochhar, managing director and chief executive, told reporters in a concall.
She did not specify the contribution of the five stressful sectors to the loan book and said it will be some time before they recover.
The bank saw loans worth Rs 7,000 crore (Rs 70 billion) slipping into NPAs during the March quarter, taking the gross NPA ratio to 5.82 per cent, from 3.78 per cent a year-ago and from 4.72 per cent at the end of the preceding quarter.
This led to a near three-fold spike in provisioning as per the norms to Rs 3,326.21 crore (Rs 33.26 billion) from Rs 1,344.73 crore (Rs 13.44 billion) in the year-ago period and Rs 2,844.05 crore (Rs 28.44 billion).
The bank said as much as 60 per cent of the Rs 7,000 crore (Rs fresh slippages came in from the AQR, while Rs 2,700 crore (Rs 27 billion) came in from restructured assets slipping into NPAs. It continues to carry Rs 8,573 crore (Rs 85.73 billion) of restructured loans.
Its smaller rival Axis Bank had also done a provisioning of Rs 300 crore (Rs 3 billion) proactively and placed Rs 22,000 crore (Rs 220 billion) of corporate loans under a watch list fearing some stress, and reported a marginal 1 per cent dip in net income first time in 44 quarters.
The first set of numbers from the larger private sector numbers underscore the fact that the bad loan issues are not just limited to state-run banks, which has reported massive drop in profits due to AQR in the December quarter, when the private players were better off.
This was warned by American brokerage Morgan Stanley on Thursday in a note saying the NPA pains to linger throughout 2016-17 fiscal and that the AQR is not a "panacea" for the system.