While Amul plans expansion, Havmor launches 'leaner' range and others are focusing on candylines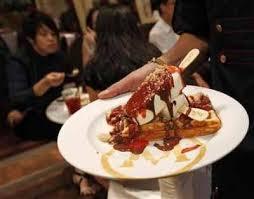 As the mercury soars, ice cream makers ready their repertoire to make the most of the peak season demand.
While some players are entering into niche segments like 'leaner' ice creams (low fat), others are busy expanding capacity, while some players are focusing on fast-growing segments like candylines.
On the whole ice cream players across the country expect around 20 per cent volume growth year-on-year this summer.
Nearly 40 per cent of the annual sales in this category happen during the three summer months, April to June.
Players estimate the market size to be around Rs 6,500 crore (Rs 65 billion), with Gujarat-based Gujarat Cooperative Milk Marketing Federation which sells ice cream under the Amul brand being one of the leading players with a 41-42 per cent share.
Another Gujarat-based player who is spreading wings slowly in the national market, Havmor, has already launched what they call 'leaner' ice creams.
"We have done a soft launch of the 'leaner' range of ice creams that would have 70 per cent less fat compared to normal ice creams.
"We have an elaborate marketing plan around this product," informed Ankit Chona, managing director of Havmor.
He said the company is target a wider audience including young children than just diabetics etc.
Chona claimed that the 'leaner' range would have about 4 per cent fat content, which is less than the average fat content in regular milk.
R S Sodhi, managing director of GCMMF, however, feels otherwise.
"If one plays with the ingredients, and alters taste, it is unlikely to click. Ice creams are impulse category, and sell primarily driven by taste."
Amul, however, has a sugar free range of ice creams and is focussing on traditional flavours like Rajwadi Kulfi flavoured ice creams this summer.
The market leader, which already has an installed capacity of 600,000 litres per day (lpd), is also in the process of expanding it by 50 per cent, Sodhi informed.
This would take its installed capacity to 900,000 lpd over the coming months, and the federation would be ready to take on demand the next summer.
This season, however, players who have not forayed into niche or speciality segments, are focussing on fast growing or 'in-demand' segments.
Take for example, Hatsun Agro down South, a private dairy player which sells ice creams under the popular Arun brand; it would be focussing on candylines which are growing faster than cups and tubs.
"While the overall ice cream category is growing at 18-20 per cent, candylines or sticks and cones are growing at 26-29 per cent," said R G Chandramogan, managing director of Hatsun Agro.
Another leading national player, Hindustan Unilever which owns the Kwality Walls brand, has launched a smaller version of its popular Cornetto, calling it the Cornetto Mini (priced at Rs 20), to leverage on the consumer trend of snacking in India.
"Similarly, we have also extended our Magnum range to Kolkata and Delhi this year," said a company spokesperson.
Geographical expansion is indeed the key to growth in the ice cream market.
As Chandramogan pointed out that most players have been able to achieve a 20 per cent volume growth through geographical expansion.
For example, after securing around 35 per cent market share in Gujarat, Havmor has expanded into neighbouring states of Maharashtra and Rajasthan.