On her trip to India, Ginni Rometty, who is also part of Donald Trump's advisory committee, discusses the importance of an open workforce, work visas, and why India is a microcosm of all of IBM. Shivani Shinde Nadhe reports.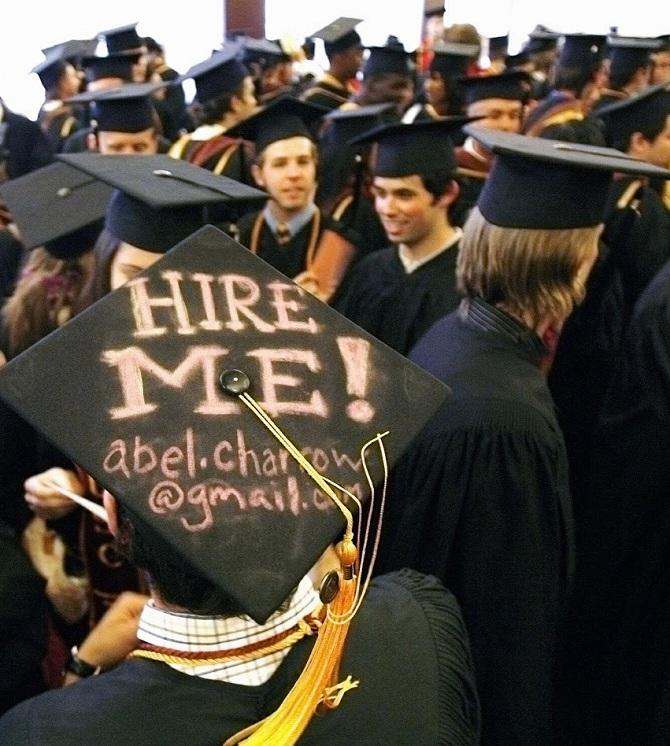 IMAGE: "By 2020, India will be home to the largest developer population in the world and 3 million programmers will help develop at least 10 percent of all apps this year," says the IBM chief. Photograph: Mario Anzuoni/Reuters.
Ginni Rometty, chairman, president and chief executive officer, IBM may be capturing media space because of the open letter she wrote to US President Donald Trump or because she is part of his advisory committee, but the thing that keeps her excited is IBM's bet on cognitive technology and cloud platforms.
In her first media interaction in India Rometty said that she cannot tell what President Trump is anticipating on immigration laws or on the much talked about H-1B visa, but said that in situations of dilemma between freedom of movement and security there is always a trade-off.
"It's both a responsibility and an honour to be called to give an opinion and to give advice to the council. What has also taught us over the years is that the way to get progress in this world is to engage and to bring solutions. And cases where there are dilemma between freedom of movement and security, there is always a trade-off in these. There are ways to make the world safer and secure so that people can move freely. That's to me is a very big answer," she said.
Rometty added that the phenomenon of creating jobs is the top priority for leaders across the globe.
"The topic of jobs is the topic for every country I go to. No matter which country it is, the first question I get asked is how many jobs do we have in that country… I mean India has 'Make in India'," she said when asked about concerns in the industry over regulatory changes in the US.
She also stressed that it is important to have open workforce to address the problems of clients.
"When it comes to visas we also use them. We use visas to fill short-term skill gap, these are part of our standard skills model. And it is small part of our population.
"I cannot tell you what will be in the future. IBM is a company built on diversity, inclusion and we move our workforce around the world, and in order to respond to our clients we will continue to do that.
"Clients expect us to solve their problems with the best talents from around the world. We do that and we will continue to do so," she added.
Rometty was among the first tech CEOs to have written an open letter to President Trump in which she said she would like to offer ideas that would harness the creative talent of the people that benefits all. Her idea involved creation of 'new collar' jobs on technologies like cognitive, automation, digital and cloud.
She also said that it is time for India as a country to embrace cognitive technology as it allows for faster and better decision making.
"You are a country of developers, which is why I say cognitive is India's future. By 2020, the country will be home to the largest developer population in the world and 3 million programmers will help develop at least 10 percent of all apps this year," she said while addressing the 25th Nasscom India Leadership Forum.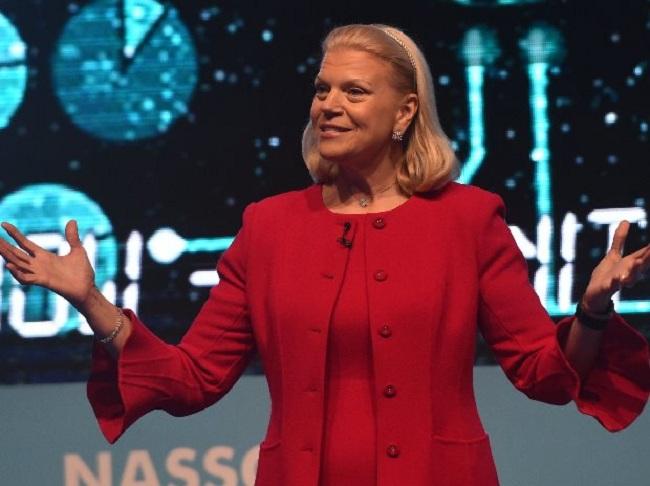 IMAGE: IBM CEO Ginni Rometty at the Nasscom India Leadership Programme in Mumbai. Photograph: Nasscom/YouTube.com.
Since she took over the helm of the 105-year old technology company, IBM has divested about $8 billion of its business and in her period acquired almost 56 companies, as she focused IBM to be a platform company with two major areas --cognitive and cloud.
This will be an important transformation for IBM, which over the years has dominated the global technology landscape.
"Each era of technology has been driven by one technology change, the difference now is that there are multiple things going on and these are happening parallel and faster, and that makes the dynamics for change much more rapid.
"One of the biggest learning's for me has been never to define ourselves as product; that's relevant for Indian based companies too. Free yourself from this you will be able to reinvent to the next level," she added.
Even during this transition India remains to be a crucial part of IBM.
Rometty stated that India is a microcosm of all of IBM. It is one of the only countries that have every part of IBM represented. India is also a place where IBM has one of its research centers of the 12 that it has globally.
Rometty feels that working in countries like India is important because some of the problems are too large to be solved in labs in some other geography due to loclisation and cost issues.
"Here they (India team) have done some fantastic research and development. We have worked on block chain. Actually, block chain is run out of India, and looking into the future of transaction as well as research on local credit and how do you use proxies to qualify and credit certify," said Vinitha Narayanan, chairman India IBM.
In the cognitive landscape, IBM has called out healthcare as a segment where it has already started working on areas like oncology.
"Financial sector is another area we have started to work, especially in Block Chain. I feel block chain will do for trusted transaction what internet did for information. It made it ubiquitous and standard. It is important that this be fabric on a foundation that is standardised," added Rometty.
IBM has close to 400 projects on block chain, including its own global financing, services business and others.
It is also part of the open platform of block chain called hyper ledger.
While Rometty is bullish on the used cases on these technologies, she says fear of replacement of jobs is unfounded.
"Cognitive or AI is about augmenting knowledge and not replacing people. There will be a new set of jobs and skills being created. I call these the 'new collared jobs'," she added.
Rather IBM is taking its relation with the education a notch up. IBM will be streamlining its relationship with at least 50 universities to rework their curriculum.
"We have been investing in the Indian education sector for three decades. And work with over 100 universities. We are working with 50 universities to rework their curriculum and also adopt PTech (pathways to technology) to India. PTech was developed with a perspective of US schools, but we want to bring this to India. We are now looking at how we can revamp these," she added.