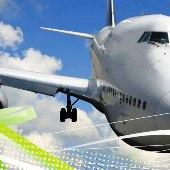 The International Air Transport Association that represents 230 airlines across the world, on Tuesday unveiled the 'Checkpoint of the Future', a security model that will do away with intrusive searches at airports and make travel hassle-free.

The existing system where all airline passengers, barring VVIPs, have to undergo rigorous frisking, the IATA model proposes different levels of screening for passengers based on the level of risk associated with each one of them.

The classification will be based on intelligence input, behaviour detection and travel data. The model is aimed to make security checks hassle-free for frequent fliers and others posing no security risk.

Air travellers will be screened in the assigned security lanes, according to their risk assessment, using technology that will allow them to walk through the checkpoint without removing clothing or unpacking baggages.

"The system will enhance security while increasing throughput. It is based on positive risk assessment and passengers will be able to go through the checkpoint without breaking stride.

"Most of the technology that will be used is already available. This is science fact not fiction," said IATA's global director for security and travel facilitation Ken Dunlap.

However, the system is unlikely to be implemented in India any time soon. A senior government official said: "IATA has made a presentation to the government.


The International Civil Aviation Organisation has formed a working group which will submit its report next year. India will take a call and formally consider the model based on the ICAO decision. ICAO can either categorise this model as a 'recommended practice' or as 'standard'."

The technology behind this project is either being developed or is available: Behaviour analysis, metal
detection and shoe scanning.
Biometrics and passenger data pools are also likely to be ready in the next couple of years.
"Only the explosive detection technology will take longer to be deployed, between five and seven years," Dunlap explained.
With security lane processing rates slowing down with rising passenger numbers -- from 2.8 billion in 2011 to 16 billion by 2050 -- the need for a more efficient system at airports is clear.
However, security experts said the IATA proposed security model could be misused by terrorists.
"In India we will have to integrate the national crime record with the Unique Identification Data if the IATA model has to be implemented. Passenger profiling too would have to be carried out by security personnel,'' said a government official.
"The then Bureau of Civil Aviation Security commissioner Veeranna Aivally had mooted the idea of collecting background data on passengers following the IC-814 hijack. It was discussed in meetings that this data would be shared with airlines.
"However, modalities were never formalised and the idea was opposed," said retired BCAS deputy commissioner P Mohanan.
The exact cost of the project, the possible expenses related to implementing it and the anticipated cost-benefit to the airline industry, however, remain unclear. IATA declined to provide any indicative numbers.
Although the entire system is likely to be in place within the next five-seven years, the repurposing of existing checkpoints using the three-lane approach may be formalised within the next two-three years, said IATA director general and CEO Giovanni Bisignani.
"We spend $7.4 billion a year to keep aviation secure. But our passengers only see hassle. Passengers should be able to get from the curb to the boarding gate with dignity.
That means without stopping, stripping or unpacking, and certainly not groping."