'If you consider only demonetisation and GST as my government's work, it will be a big injustice to me.'
Archis Mohan and Indivjal Dhasmana report.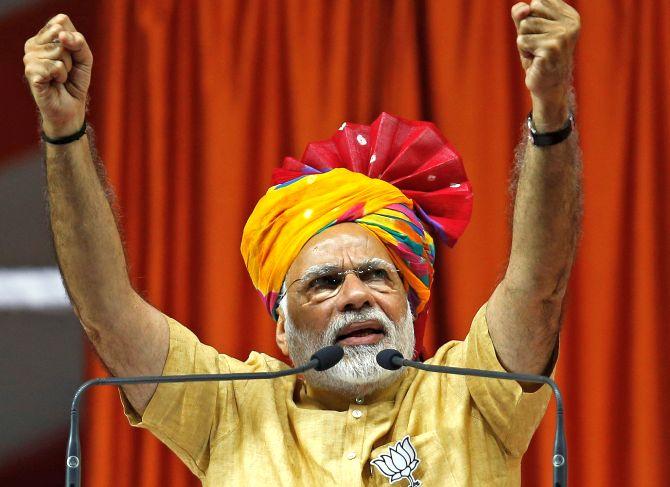 IMAGE: Prime Minister Narendra D Modi believes India remaining in perennial election mode not only affects governance, but also hurts the nation's federal structure. Photograph: Amit Dave/Reuters
Countering the allegation that his government had reneged on the promise of creating 10 million jobs a year, Prime Minister Narendra D Modi quoted a recent study showing seven million jobs had been created in the formal sector alone in the current financial year.
"This data of seven million jobs is not like building castles in the air. It has been calculated by an independent agency on the basis of the Employees Provident Fund Organisation figures," Modi said in a television interview, a couple of days before leaving for Davos to address the World Economic Forum.
One should also count the opportunities that were being created in the informal sector, he added.
"As many as 100 million people have taken loans from the Prime Minister Mudra Yojana without any bank guarantee. Loans to the tune of Rs 4 trillion have been disbursed. New entrepreneurs are being created. Won't you count these figures as job creation?" he asked.
"One can counter these figures on political lines, but these numbers are not based on just wishful thinking," he said.
"We are on the right track so far as job creation is concerned."
According to a study authored by SBI Group Chief Economic Advisor Soumya Kanti Ghosh and IIM Bangalore Professor Pulak Ghosh, 590,000 jobs had been generated every month until November in the current financial year.
This means that seven million jobs will be created in the formal sector in 2017-2018 if one expands the trend on a pro-rata basis.
The study, Towards a Payroll Reporting in India, calculated the number of jobs in enterprises from the membership of the EPFO, the Employees State Insurance Corporation, the General Provident Fund, and the National Pension System.
So far as data from the EPFO is concerned, the study estimated that 3.68 million jobs were generated till November of FY18, which would imply 5.5 million in the entire year.
This would be higher than the 4.5 million created the previous financial year, a period which saw disruption from demonetisation.
Asked what kind of Budget -- the last full one of his government -- it will be, the prime minister said the mantra of his government was development.
"Whether this is the last Budget or the first Budget, whether there are elections or not, the mantra of Modi is only development, development and development."
"The mantra of the Bharatiya Janata Party is only development."
The PM spoke at length about the need for simultaneous Lok Sabha and assembly polls. He said there was a need for increased debate on the issue.
"This cannot be the agenda of one political party or individual. It isn't Modi's or the BJP's agenda only. There is a need for discussion on this," he said.
Modi felt the country remaining in perennial election mode not only affected governance, but also hurt the federal structure of the country.
Talking about how elections lead to war of words between political rivals, Modi likened elections to the festival of Holi.
Holi, he said, was celebrated on a particular day where it was acceptable to throw colours or mud on people.
"Similarly, the Lok Sabha and assembly elections should take place at a fixed time, for example in the second week of February."
Modi said expenditure on the 2009 Lok Sabha elections was Rs 11.1 billion, which increased to Rs 40 billion in 2014.
He also highlighted the enormous manpower that was deployed to conduct elections, and how it interfered in governance.
On agriculture, he said his government had an ambitious programme to double the farmers' income by 2022 through the prime minister's crop insurance scheme, value addition of farm produce, irrigation programme etc.
On the criticism related to demonetisation and the goods and services tax, Modi said his government's achievements were much beyond these two reforms.
"If you consider only these two things as my government's work," he said, "it will be a big injustice to me."