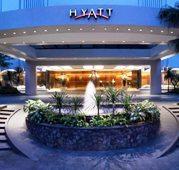 Hospitality company Hyatt Hotels said on Wednesday it will set up more than 120 properties in India over the next decade as it undertakes extensive expansion in one of the 'greatest hotel markets'.
Hyatt, which has been present in India for the past three decades, will expand into 15 new markets, including Bangalore, Chennai, Hyderabad and Pune over the next five years, it said.
In addition, three more properties will come up in Pune, Chennai and Goa this year, while the company has also outlined growth plans in cities like Delhi, Goa, Kolkata and Mumbai, it added.
"We believe India represents one of the greatest hotel markets over the next decade- one that will play a key role in driving Hyatt's long-term growth," Hyatt Hotels Corporation president and chief executive officer Mark Hoplamazian said.
Approximately one-fourth of Hyatt's global pipeline of more than 120 property is earmarked for India, for which the city-headquartered company has committed additional capital as it undertakes selected developments with its Indian partners.
Hyatt has also chosen India as the first location outside of the US to set up its service brand Hyatt Place in cities like Gurgaon, Hyderabad, Indore, Lucknow, Mangalore, Mundra and Mysore, it said.
Additionally, full service hotels under the Hyatt Regency -- Grand Hyatt and Park Hyatt -- are currently under development.
As part of its expansion, Hyatt would also add 10,000 associates to its current pool of more than 3,500 employees at across India, it added.
Within the next five years, Hyatt Regency hotels will come up in Ahmedabad, Bangalore (Koramangala and Jakkur), Chennai, Hyderabad, Navi Mumbai and Vizag.
Meanwhile, Grand Hyatt hotels would come up in Pune and selected other markets, while Park Hyatt hotels are on the anvil in Chennai, Hyderabad, Kolkata and Mumbai.
Hyatt is also looking to expand presence in Tier II and Tier III cities.
"Creating brand preference by enhancing our distribution in India is a top priority," Hyatt Ratnesh Verma senior south Asia vice-president (real estate and development) said.
As of December 31, 2009, the company's worldwide portfolio consisted of 424 property.