Brokerage houses across the board have downgraded their view on Hindustan Unilever Ltd (HUL), India's largest packaged consumer goods maker, following its poor showing in the three months ended December 31.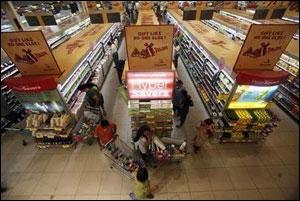 HUL reported a 16 per cent rise in net profit at Rs 871 crore (Rs 8.71 billion) on net sales of Rs 6,655 crore (Rs 66.55 billion). Both were below street estimates of nearly Rs 900 crore (Rs 9 billion) net profit on sales of Rs 6,800 crore (Rs 68 billion).
Volume growth, a key metric for most consumer companies, was down to five per cent for HUL in the third quarter from almost 9-10 per cent a year ago. This was the lowest in three years for the company, said Angel Broking's fast-moving consumer goods analyst V Srinivasan, adding he maintained a neutral view on the stock.
But foreign brokerages CLSA and Credit Suisse were not so kind, downgrading HUL to 'sell' and 'neutral' from 'outperform', with a target price of Rs 430 and Rs 485 from Rs 585 and Rs 573 earlier. J P Morgan and UBS maintained a neutral stance on the stock, with a target price of Rs 550 from Rs 465 and Rs 620, respectively, while Bank of America and Jefferies had an under-perform tag to the stock, with a target price of Rs 441 and Rs 434 from Rs 477 and Rs 473 earlier. Goldman Sachs and Citi, meanwhile, had a 'sell' tag on the stock, while Deutsche Bank maintained hold. Morgan Stanley went from equal-weight to under-weight and Nomura downgraded the stock to reduce from neutral.
Among local players, Mumbai-based Edelweiss was quick to downgrade HUL from hold to reduce, saying its target price was Rs 458. HUL, in the interim, continued to underperform on the bourses.
Besides the slowdown in discretionary, which impacted sales in personal products and packaged foods, analysts remained apprehensive about the hike in royalty and its impact on earnings, going forward.
HUL signed a new royalty agreement, which would see it pay a higher amount to the extent of 3.15 per cent of sales from 1.4 per cent now by March 2018. The agreement, effective next month, will see royalty shoot up by 0.5 per cent between February 2013 and March 2014. It will then go up by 0.3 to 0.7 per cent per annum for the next four years.
HUL's chief financial officer R Sridhar said during announcement of the company's results yesterday the increase in royalty was a fair price to the company for greater access to its brands and technology. "You cannot say an increase in royalty will result in an impact on margins," he told Business Standard.
But analysts think otherwise. Edelweiss, in a results update released on Wednesday, said: "The increase in royalty comes at a time when HUL has seen its slowest volume growth as well as when an increase in tax by an estimated 200 basis points in FY14 and 250 basis points in FY15 is round the corner. The increase in both royalty and tax will result in an estimated annual earnings growth of 9.8 per cent between FY13 and FY15 versus 24.9 per cent between FY11 and FY13."
Parent reports strong growth
Anglo-Dutch major Unilever reported a seven per cent and ten per cent rise in net profit and sales, respectively, for the full year ended December. Turnover was $68 billion, while net profit was $6.5 billion for the full-year ended 2012.