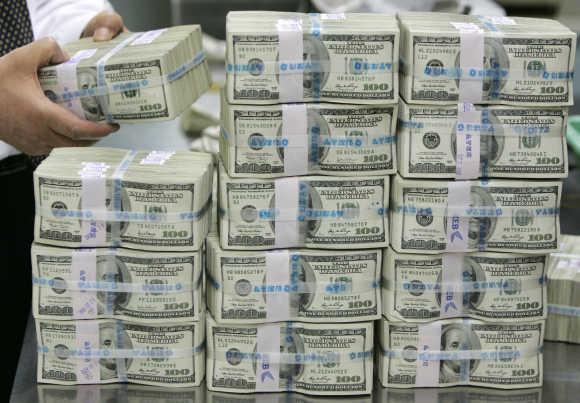 There is a huge opportunity for foreign investment in India as the government focuses on rapid infrastructure development in the country, Finance Minister P Chidambaram said.
Chidambaram said that the total investment requirements for power, roads, ports, civil aviation etc. during the 12th Plan period is projected at $1 trillion, nearly half of which is expected to come from the private sector.
This provides an ample opportunity for foreign investments to reap benefits from the high returns from India, said Chidambaram, who is in Washington to attend annual plenary meeting of International Monetary Fund and the World Bank.
"There is huge opportunity for foreign investment. We have massive infrastructure projects underway," he said.
Chidambaram cited the Delhi Mumbai Industrial Corridor as an example, that will entail over $90 billion in investment linking Delhi to Mumbai's ports, covering an overall length of 1483 km passing through six states.
This project will have nine mega industrial zones of about 200-250 sq.km. each, high speed freight lines, three ports, six airports, a six-lane intersection-free expressway connecting the country's political and financial capitals, and a 4000 MW power plant, providing a plug-and-play environment for manufacturing investment, he said.
Chidambaram said the Indian government is promoting Public Private Partnerships as an effective tool for bringing private-sector efficiencies for delivery of quality public services.
"India, in recent years, has emerged as one of the leading PPP markets in the world, because of several policy and institutional initiatives taken by the government. We have over 1000 PPP projects in the infrastructure sector with a total project cost (TPC) of about $97 billion," he said.
"The Viability Gap Funding (VGF) Scheme has been further strengthened by adding many new sectors like modern storage, education, health, irrigation etc. Thirteen new sub-sectors have been included in the list of sectors eligible for VGF support under the Scheme," the Finance Minister added.
Chidambaram congratulated IDFC at an event for successfully getting foreign investors to commit $644 million towards first close of its Second India Infrastructure Fund.
"I am quite confident that they will shortly achieve the target size of $1 billion," he said. Indian Ambassador to the US, Nirupama Rao, congratulated IFDC's on a "remarkable achievement" at a time when the global investment environment is tough.