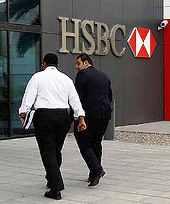 HSBC Holding Plc has paid a penalty of about $27.5 million (Rs 154 crore) to Mexican regulators as the banking giant's unit there failed to comply with the money-laundering rules.

HSBC Mexico said it paid a 'fine imposed by the National Banking and Securities Commission (CNBV), amounting to MXN 379 million (about $27.5 million), in connection with non-compliance with anti-money laundering systems and controls, including reporting requirements with regard to unusual transactions, as well as other prudential regulations.'

The penalty was paid for the infringements related to the late reporting of 1,729 unusual transactions, the failure to report 39 unusual transactions, and 21 administrative failures, it said in a statement on Wednesday.

Going by media reports, the fine is the highest ever imposed by Mexican regulators.

"HSBC Mexico apologises for its failure strictly to comply with banking regulations, and acknowledges that in the past it has sometimes failed to meet
the standards that regulators and customers expect," the bank said.
The fine follows a report by the US Senate subcommittee accusing HSBC of exposing the American financial system to various terror financing, money laundering and drug trafficking activities with transactions worth billions of dollars, due to poor risk control systems at the bank.
A 330-page report, released last week by the US Senate Subcommittee, noted, "Mexican affiliate of HSBC transported $7 billion in physical US dollars to HSB-US from 2007 to 2008, outstripping other Mexican banks, even one twice its size, raising red flags that the volume of dollars included proceeds from illegal drug sales in the US."
The report found that HSBC, with its headquarters in London, allowed affiliates in countries such as Mexico, Saudi Arabia and Bangladesh to move billions of dollars in suspect funds into the US without adequate controls.
HSBC Mexico is one of the leading financial groups in Mexico with 1,066 branches, about 8.5 million total customer accounts.
It has 18,500 employees in the country.