The reason for Trent's success is rooted in its slow and steady approach to expansion. Unlike others, Trent, led by Noel Tata, ensured that each store was profitable before it went on to the next, says Raghavendra Kamath.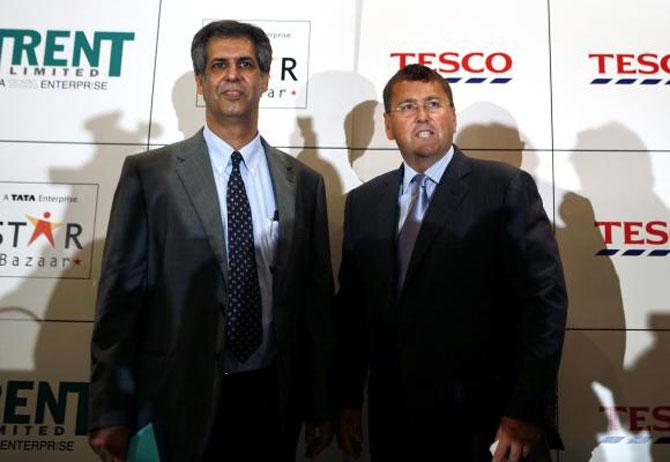 Tata group's retail venture, Trent, was considered a laggard compared to its peers such as Kishore Biyani's Future Group and Mukesh Ambani's Reliance Retail. When others were opening hundreds of stores in a year, Trent was slow on expansion, adding one or two outlets at the most.
But when its rivals started to shut stores later to stem losses, Trent was riding high. Its profits rose 53 per cent in the last five years, the highest for any retailer in the industry.
The reason for Trent's success is rooted in its slow and steady approach to expansion. Unlike others, Trent, led by Noel Tata, ensured that each store was profitable before it went on to the next.
"They were called slow movers, but when others opened stores aggressively and burned money, Trent opened stores slowly. It saved a lot of capital in a capital-starved nation like India," says an analyst who does not want to be quoted.
A narrow focus has worked in its favour as well. Unlike other new entrants, Trent stuck to a single format, like Fabindia and D Mart, rather than experimenting with different formats, says Arvind Singhal, chairman of business consultancy Technopak.
A quick route to profit
The company pays a lot of attention to every aspect of the business, from merchandise and pricing to location of its stores and logistics. Factors such as popularity of a mall, its accessibility and the visibility of its stores in the mall are important considerations before opening a store, says a former Trent executive who does not want to be named.
"Even today, its products are best value in its price segment. It is like buying a Zodiac shirt of Rs 1,800 for Rs 800," he says.
But what has helped the company turn profitable quickly is the franchise-route to expansion. "In franchising, you don't spend on capex, operating costs and doing up the store," says the executive.
"Other department stores cannot emulate its strategy as they don't have that many private brands," he adds.
Trent earns both from franchisee fee and from selling its own products in those franchised stores. Trent's flagship format, Westside, has 25,000 to 30,000 square feet stores and the company is now looking for a franchise for it in West Asia.
About 80 per cent of the merchandise sold at Westside comprises private labels, which carry margins of over 40 per cent in categories such as apparel. In comparison, Shoppers Stop and Lifestyle have about 20 per cent sales coming from private labels.
"Trent understood private labels well and developed it properly," says Sanjay Badhe, an independent retail consultant, adding that it started private labels in ladies and kids wear in a small way and expanded it later once the demand picked up.
Trent's focus on developing synergies between Westside, its flagship store, and Star Bazaar, its hypermarket, has also helped rationalise costs. "Star's apparel division is supported by Westside and Westside's gourmet division is supported by Star," says another executive who too does not want to be named. An email sent to Trent did not elicit any response.
The Tesco edge
The back-end agreement and later a joint venture with UK's Tesco has lent Trent an edge in terms of operational efficiency and capital required to run and scale up the business, the executive quoted above says.
Tesco provides support on supply chain systems, merchandising, sourcing and IT know-how to Star Bazaar, the hypermarket chain operated by Trent. Tesco also provides its proprietary "planogram" software to Star Bazaar, which helps display products in a manner that it attracts the attention of customers.
For example, according to Tesco's planogram, retailers need not stock soaps and shampoos near the entrance as customers will seek out these essential items wherever they are. Instead, it says, retailers should use the vantage point to draw the customer's attention to novelty items that command a higher margin.
Tesco has also introduced hundreds of its SKUs (stock keeping units) in Star Bazaar stores, from personal care to packaged foods. While the contribution of private labels to Star Bazaar's revenue is still in single digits, Tesco sees 45 per cent of business from private labels.
According to executives in the know, Tesco has played a role in developing Star Bazaar's own private labels as well.
Though Trent Hypermarket is yet to become profitable, the Tesco advantage has helped it stem its losses, analysts say. Trent Hypermarket's losses before tax shrunk in FY 2016 to Rs 44.77 crore from Rs 65.37 crore in the previous year. The chief executive of a national retail chain says Tesco's best practices might just help Star Bazaar break even fast.
Tesco plays a key role in the supply chain of Star Bazaar. Armed with its advanced demand forecast system, auto-ordering mechanism and warehouse management systems, Tesco has managed over 80 per cent fill-rate (the number of times shelves get filled correctly against the orders placed) at Star Bazaar stores. The industry average in modern retail hovers between 60 and 65 per cent, as against 90-95 per cent in Europe and the US.
Many consultants say Tesco could also bring in its famous supply chain system called 'Tesco in a Box' to Star stores to improve its efficiency further. The custom-built application provides stores with all systems necessary to operate in a new country.
Now, after having got its supply chain and logistics right, Trent is slowly changing tack. After a lull, Star Bazaar has tried another format besides hypermarkets, called Star Daily, in Pune, a neighbourhood convenience store.
Trent is also looking to step up expansion of Westside and Star Bazaar stores. The number of new Westside stores will be increased from 15 to 25 annually and that of Star Bazaar to 30 from eight.
Photograph: Punit Paranjpe/Reuters