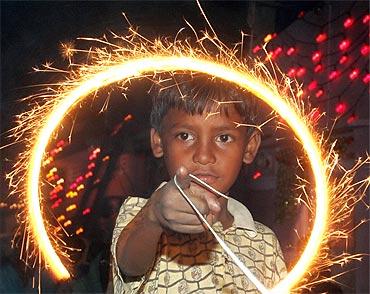 In most cards, you have to make a minimum expense. Seek cash discounts where you can

'Celebrate Diwali by owning a BMW' screams an advertisement in a leading paper.
The deal includes a buyback offer, low initial payment, low interest rate and so on -- quite a package for someone who can afford a BMW series.

It's not easy to ignore the newspaper ads with Diwali offers of residences, cars, consumer durables, home decor and so on. Many are already biting into these. For example, Vaishali Chaturvedi (name changed) has bought a wardrobe from one of the popular websites.
"The price was almost 20 per cent less than the original price," she says. How does she know? The website has advertised it, is the answer.

A reply similar to the one many of us give when we do not see the fine print or understand the offers before buying.
For example, the BMW ad mentions, in very small font size, that the offer is for select models and the buyback offer is only if the car hasn't travelled for more than 10,000 km.

Many during this period want to buy all kinds of goods because of cheaper prices and, of course, it is auspicious.
Abdul Majeed, partner, Price Waterhouse, says most companies in the white goods sector are luring buyers with attractive discounts as demand in rural markets is down, due to drought in many states. "Those who had postponed discretionary purchases can get value for money deals in the white goods segment," he says.

Let's look at some of these offers:

Property

This is prime season for property. Many people prefer to buy or, at least, finalise the deal in this season.
And, the deals seem good. Says Anuj Puri, country head, JLL India: "Even before the current festive season kicked in, developers across the country have been announcing offers waiving charges, which otherwise represent a significant additional cost to buyers.
"Waiving of charges, such as VAT, service tax, floor rise and stamp and registration duties has more or less replaced the traditional 'white goods' freebies and other incentives."

According to him, many developers have also announced hard discounts on the sale price — a move which can trigger price wars — if discounts last beyond a limited period.
There are many who are pushing their wares with ads like 'Get the property at 2011 rates' and so on.

However, financial planner Suresh Sadagopan says, one has to be a tough negotiator with property. If the builder is offering a fully furnished house, it makes more sense to take a cut on real prices.
"The cost of fully furnishing a house won't be over Rs 200,000-500,000.
"On the other hand, the price of the property will be as high as Rs 1.5 crore. So, the discount isn't significant. Seek a discount on the price, rather than taking these."

Automobiles

Around a third of car sales happen around the festival season between September and November, say industry experts.
To make the most of it, automobile companies have come up with lucrative offers, especially on older models, to help them clear the inventory.
The discounts are a combination of cash, exchange bonus and lower interest rates on loans. Entry-level hatchbacks have the best overall deals.

Hyundai is offering a saving on almost all its cars.
If you buy an EON, there's zero down payment and savings of up to Rs 44,000.
A buyer can get savings up to Rs 70,000 on the Grand i10 and Xcent, up to Rs 50,000 on the i10, Rs 83,000 on the Verna, up to Rs 40,000 on Elantra and Rs 50,000 on the Santa Fe.
Market leader Maruti Suzuki continues to offer a discount of Rs 35,000 on the WagonR and an exchange bonus of Rs 25,000. The Ciaz, Alto and Swift have discounts of Rs 20,000 and an exchange bonus of Rs 15,000.
Honda is celebrating its 20th anniversary and giving a gift to every customer.
There's also a benefit of up to Rs 1.5 lakh on the Mobilio and Rs 47,000 on the Amaze.

Discounts are available with almost all other carmakers but there's also a focus on offering attractive interest rates on loans. Renault has a 4.99 per cent interest rate on the Duster, along with benefits up to Rs 45,000.
Nissan has 8.99 per cent on the Terrano. Also, first year free insurance, an assured gift and a Blaupunkt navigation system worth Rs 30,000.
Even a luxury car company like BMW has a lower interest rate of 5.99 per cent on the BMW-3 series.
Customers need to shell out only five per cent in down payment.

Most discounts will end between November 11 and November 13. Rakesh Batra, partner and automotive sector leader, EY India, explains: "The sales of cars are sluggish and inventory has piled up.
There have been new car launches but sales volumes are not requisite. Manufacturers are, therefore, coming up with discounts and easy finance schemes to lure buyers.
"About 70 per cent of all cars sold are bought on a loan. Lower interest rates also help companies to cut on cash discounts and bundle products such as insurance and maintenance."

Many dealers also say they are giving freebies like free seat covers and other internals.
Financial planners advise that instead of these freebies one should opt for cash discounts.

Credit/debit card offers

For the festival season, most banks have tie-ups with various dealers for cash-back offers.

State Bank of India is one of the few banks to do away with the processing fee on home and car loans for the festival season.
The rate on a home loan is 9.55 per cent (9.5 per cent for women) till December 31. For car loans, 9.8 per cent.
The bank has also tied up with retail chain Croma to offer five per cent cash-back on debit and credit cards between October 16 and November 15.
The cash-back is available on transactions of Rs 20,000 and above, subject to a maximum of Rs 2,500 per card. The purchase can be made at either a Croma store or on the website.
The cash will be credited to the card account by December 31.

For its debit and credit holders, HDFC Bank is having a contest of sorts. Between October 1 and December 31, of the highest transactions every 15 minutes, one credit and one debit card transaction each will be eligible for cash-back of Rs 5,000.
It is valid on transactions between 10 am and 10 pm.
Similarly, Axis Bank is running a Top Spenders Campaign between October 13 and November 15 for its debit and credit card holders, except corporate ones.

However, there are conditions. For instance, there are minimum transactions in a day to be eligible for the scheme.
These could be Rs 5,000 or Rs 10,000.
Also, a customer can qualify for cash-back only once in a month.
Transactions not eligible for the campaign include cash withdrawal at points of sale, ATMs and banks, fuel transactions, void transactions, gambling, purchases of shares and mutual funds, institutional investments, business-related transactions and those done by merchants on their own terminals. Online purchases through the bank's internet banking channel are also not be eligible for this scheme.

BEFORE THE BINGE, ASK THESE QUESTIONS

Financial planner Suresh Sadagopan on three key questions you should ask yourself:
Do you need the product? If so, only then go for it. There are people who replace a fridge or other consumer durables only because there is a deal like a fridge plus washing machine or a bigger fridge with a good exchange offer.
Do you have the money? There are enough people who are taking loans of Rs 10,000 or Rs 15,000 to buy the latest phone or some other goods. If you can't afford even small amounts, there is no point in buying products on small loans because the absence of even small liquidity indicates your financial situation is not at all healthy. For such people, any additional loan is only accentuating the stress.
Have you done your homework? Whether it is a car or consumer durable, it helps to get a good discount if you have done a little research in understanding the numbers. For example, if you are getting a discount of 10 per cent for a product, check the listing price and ask the shop for a cash discount. Similarly, a cash discount can be used effectively instead of taking a zero per cent interest loan because many shops will calculate the entire product price (minus the discount) for giving the loan.