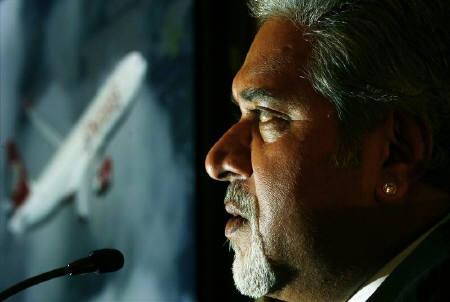 Things appear to be going from bad to worse for Vijay Mallya, once known as 'King of Good Times', with the board of a company he nurtured into India's largest liquor maker asking him to quit.
Mallya, already fighting on a number of other fronts including the 'wilful defaulter' charges, recently also saw one of the Kingfisher aircraft being sold to a scrap dealer in Mumbai, who sold it after tearning it apart into pieces.
This followed lenders taking possession of Kingfisher House near airport in Mumbai, on which tax department has also staked its claim to recover its own dues.
Mallya, however, continues to strike a defiant note and has refused to step down while taking refuse in "certain contractual obligations" that require United Spirits' current owner Diageo to back his position as Chairman.
While Diageo is yet to make its position public, sources have said that the UK-based liquor giant, which spent $three billion (about Rs 20,000 crore or Rs 200 billion)) to buy 55 per cent stake in USL, may invoke "certain defaults" on the part of Mallya and his UB Group to support the board resolution of his ouster if shareholders are required to vote on the same.
The board is already dominated by Diageo representatives with Mallya being the only one from his UB Group, which now owns just about 3 per cent stake in USL including a fractional 0.01 per cent in his name.
Mallya has been in the dock ever since his ambitious airline venture Kingfisher landed in financial troubles and got eventually grounded in October 2012.
Thereafter, Mallya had to sell some of his assets, including controlling stake in USL to Diageo.
The UB Group, where Mallya became chairman at the age of 28 after death of his father in 1983, was considered one of India's largest conglomerates till a few years ago with turnover of over USD 4 billion and market value of $12 billion.
It had diverse interests in brewing, distilling, real estate, engineering, fertilizers, biotechnology, information technology and aviation, while it was also the largest Indian manufacturer of beverage alcohol -- beer and spirit. Now, the aviation venture is grounded since 2012, a takeover battle is on for fertilisers arm, while control or major stakes have passed away to new owners at some other entities including the group's erstwhile flagship firm USL.
Prior to becoming UB Chairman, Mallya worked for the American Hoechst Corporation (now Sanofi-Aventis) in the US and with Jenson and Nicholson in the UK.
In 1980, he began assisting his father in managing the Brewing and Spirits Divisions and in re-launching the Kingfisher Brand of Beer.
In aviation, he pegged Kingfisher as the country's only luxurious airline and later acquired Air Deccan to foray into low-cost market.
Emerging as one of the most flamboyant businessmen, he bought an IPL team (Royal Challengers Bangalore) and was also the first Indian ever to become the owner of a Formula One Team, where he later brought in Sahara group, another embattled corporate house, as a partner.
Mallya, in the meantime, has taken to social media in a big way to make public his views on the boardroom battle at USL with a series of tweets to debunk the charges against him.
And this is not the first time that the flamboyant businessman has taken to Twitter to hit back at his critics.
Way back in 2013, when he lost the billionaire status after a sharp plunge in his networth, Mallya had thanked 'the Almighty' for losing the billionaire tag and had hoped that it would lead to "less jealousy, less frenzy and (less of) wrongful attacks" on him.
Announcing Mallya's exit from billionaires' league in its annual Rich List 2013, business magazine Forbes had said that "King of good times is having nothing but bad times lately."
To recover their loans totalling about Rs 7,600 crore or Rs 76 billion, banks in February 2012 had started a formal process for recovery of loans from Kingfisher and its promoters.
Similar efforts have been initiated by others as well, including the airport authorities. Some banks even went on to declare Mallya and his group firms as "wilful defaulters", a charge that has been challenged by Mallya.
On the latest developments at USL, Mallya has said that the company's has "parroted" an inquiry report submitted by PwC, whose finding itself was based on "half truths and twisted facts against the previous management". PwC has defended its report.