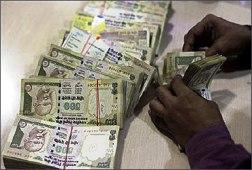 The rupee dropped to its lowest level in 10 months on Wednesday as persistent dollar demand from defence and oil firms weighed while a fall in local shares added to its woes.

Traders said exporters were also largely missing from the market for much of the day as most of them possibly sold late last week after the central bank executive director's comments.

The Reserve Bank of India plans to allow exporters and importers to cancel and re-book up to 50 percent of their total hedged exposure from the present 25 percent cap.

The news was taken as positive for the rupee.

"There has been huge dollar demand for past couple of days with people citing defence payments. The move has also triggered stop-loss of short positions," said Paresh Nayar, head of fixed income and foreign exchange trading at First Rand Bank.

"The pressure on INR (to depreciate) is big but I expect June could be a different month, when Unilever funds should hit along with lower demand for gold related FX," he added.

Unilever Plc plans to pay up to $5.4 billion to raise its stake in its Indian subsidiary Hindustan Unilever Ltd <HLL.NS>. The open offer opens June 21 and closes July 4.

Dealers expect these flows to start coming into the domestic market after the first week of June.

The partially convertible rupee closed at 56.17/18 per dollar compared to 55.9550/9650 on Tuesday. The unit fell to as much as 56.37, its lowest since July 25, 2012.

The BSE Sensex fell on Wednesday, snapping a three-day winning streak, as lenders such as ICICI Bank declined on caution ahead of quarterly economic growth data and the expiry of May derivative contracts later this week.

The rupee, which has usually moved in tandem with the domestic sharemarket as foreign fund flows are a key driver for the currency, has so far in 2013 failed to benefit much from the nearly $20 billion worth of inflows into equities and debt.

Traders said a late fall in the dollar versus the yen also supported the rupee's recovery.

The index of the dollar against six major currencies was down 0.6 percent when the rupee closed.

In the offshore non-deliverable forwards, the one-month contract was at 56.53 while the three-month was at 57.11.

In the currency futures market, the most-traded near-month dollar/rupee contracts on the National Stock Exchange, the MCX-SX and the United Stock Exchange all closed at around 56.47 with a total traded volume of $5.50 billion.
Source:
© Copyright 2021 Reuters Limited. All rights reserved. Republication or redistribution of Reuters content, including by framing or similar means, is expressly prohibited without the prior written consent of Reuters. Reuters shall not be liable for any errors or delays in the content, or for any actions taken in reliance thereon.