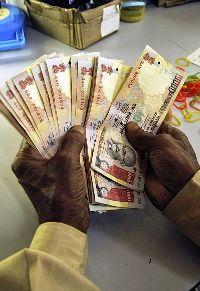 The rupee posted its biggest quarterly gain since the September quarter of 2012 as heavy foreign buying of equities and debt boosted the local unit, but further gains could be capped by a cautious central bank, analysts warned.

The rupee also breached the 60-per-dollar mark for the first time in eight months, prompting the Reserve Bank of India to put up some stiff resistance.

Foreign funds have purchased a net $3.7 billion in equities from the start of 2014 until March 27 while in debt the net inflows stand at $5.8 billion.

Dealers said the RBI was seen buying dollars intermittently over the week to slow the rupee's slide as also to shore up its foreign exchange reserves which have risen to $298.64 billion as on March 21, its highest since December 2011.

Some traders speculated the central bank has likely bought nearly $2-$3 billion over this week in its attempt to slow the rupee's rally.

"There have been good inflows seen in the market. The near-term outlook depends on the central bank's monetary policy but there is good support for the dollar at 59.80 levels," said A. Ajith Kumar,
a senior foreign exchange trader at Federal Bank.
The partially convertible rupee closed at 59.91/92 per dollar compared to 60.31/32 on Thursday. The rupee rose as high as 59.68, its strongest since July 30.
The rupee rose 3.15 percent in the March quarter, its best quarter since the 4.96 percent rise in the September quarter of 2012. On the month, the unit gained 3.1 percent, its best month since September 2013.
Traders will continue to monitor foreign fund flows in the near-term for cues.
Indian shares hit a record high for a fifth straight session as state-run lenders such as State Bank of India continued their recent rally after the central bank extended the deadline for implementing Basel III capital-raising rules.
The one-year onshore forward premium rose to 519 points, not far from its record high of 525.25 points as the central bank likely conducted sell buy swaps in the forwards, dealers said.
Gains in other Asian currencies also supported sentiment. Most emerging Asian currencies advanced on Friday, heading for weekly gains as speculation grew over China's economic stimulus and the yuan's rebound.
In the offshore non-deliverable forwards, the one-month contract was at 60.22 while the three-month was at 60.88.