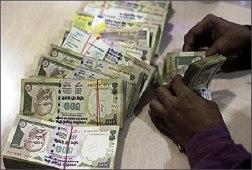 The rupee on Friday fell by a whopping 53 paise to close at nearly a two-month low of 54.89 because of heavy dollar demand from oil importers and may breach 56-level in the short term.

Forex dealers said euro falling to 1.3008 levels and the US dollar strengthening against major currencies overseas also put pressure on the local currency.

"The rupee fell sharply today as the market was disappointed with the Budget for not meeting its expectations to take concrete steps to curb the burgeoning current account deficit," said Ashtosh Raina, chief dealer at HDFC Bank.

He added that rupee is likely to fall further to 56-level in the near term.

The rupee commenced lower at 54.65 per dollar from yesterday's close of 54.65 at the Interbank Foreign Exchange market. It hovered in a range of 54.40-54.94, before ending the day at 54.89, a net fall of 53 paise, or 0.97 per cent over its previous close.

Previously, it had finished at 54.98 on January 8, 2013.

However, the BSE benchmark index Sensex, which had fallen to a three-month low yesterday, recovered some ground and gained 57 points to end at 18,918.52 today.

Foreign institutional investors pumped in $114.21 million (Rs 626.89 crore)
into local equities, according to BSE provisional data.
In a research note, Managing Director and Chief India Economist Tushar Poddar said: "With risks to the net borrowing requirement from the budget to the upside, and no major proposals in the budget to reduce the current account deficit, we think there are depreciation pressures for the INR in the near-term."
Rupee has a risk of further depreciation beyond 55 in the near-term, he added.
IDBI Bank Treasury Head N S Venkatesh said dollar demand from oil importers payments and selling pressure due to weakening in euro also weighed on rupee.
He, however, added that the fall in rupee is a short-term phenomenon and it will improve to 54.30-54.60 soon.