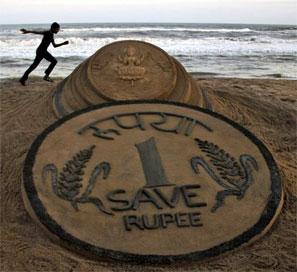 The rupee fell on Wednesday as the worsening crisis in Iraq threatened to disrupt oil supplies but recovered from session lows after state-owned banks sold dollars, likely on behalf of the central bank.

The rupee had revisited the near 2-month low of 60.55 per dollar earlier in the session, and retreated after the central bank sold the greenback via state-run banks starting around Rs 60.53 levels, traders said.

The Reserve Bank of India (RBI) has been spotted intervening to check the rupee's falls in the past few sessions.

On Tuesday, RBI Governor Raghuram Rajan assured markets that India is watching the situation in Iraq, but despite the uncertainty the domestic economy is better prepared to deal with any shocks on the external front.

Brent crude rose towards $114 a barrel on Wednesday as Sunni militants pushed forward in northern Iraq, striking a key refinery near Baghdad and stoking worries about oil exports from the key producer.

India imports nearly two-thirds of its oil needs, leaving its currency especially vulnerable to price swings.

A fall in domestic stocks due to waning risk appetite added to the rupee's losses.

The BSE Sensex fell over 1
per cent on Wednesday as oil refiners such as Bharat Petroleum Corp slumped on concerns about the impact of higher oil prices on inflation and the government's finances.
The dollar also notched up broader gains against most currencies ahead of the outcome of the U.S. Federal Reserve's two-day meet later in the day.
The greenback's strength offset the impact from exporter dollar sales in the domestic market.
The dollar held its gains on Wednesday after a broad firming on the back of higher-than-expected U.S. consumer prices for May that fanned speculation the Fed may inch closer towards hiking interest rates.
"I don't see any surprise from Fed, and the rupee move will depend on crude prices. Any sharp move will be countered by the RBI," said Uday Bhatt, a foreign exchange dealer with UCO Bank.
The partially convertible rupee ended at 60.39/40 per dollar versus its previous close of 60.03/04.
Earlier in the day, Reuters reported the Indian government expects oil prices to rise as high as $120 per barrel for several months due to the conflict in Iraq, potentially driving a hole of at least 200 billion rupees ($3.3 billion) in the budget, two government sources said.
In the offshore non-deliverable forwards, the one-month contract was at 60.70, while the three-month was at 61.29.