Raghuram Rajan, whose tenure as the RBI chief will end on September 4, had on last Saturday said he will not be seeking an extension as the governor.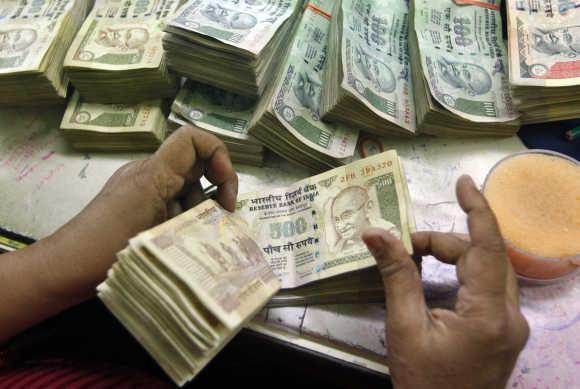 The rupee on Monday ended lower by 23 paise to close at an over two-week low of 67.31 against the US currency on heavy bouts of dollar demand amid uncertainty in the wake of RBI Governor Raghuram Rajan's decision against pursuing a second stint.
Rajan, whose tenure as the RBI chief will end on September 4, had on last Saturday said he will not be seeking an extension as the governor.
The home currency opened sharply lower at 67.65 per dollar as against the last weekend's level of 67.08 at the Interbank Foreign Exchange (Forex) Market and dropped further to one-month low of 67.70 on initial heavy dollar demand.
However, it recovered afterwards to 67.28 in view of a sharp recovery in equity market on hopes of robust foreign capital inflows following government's announcement of a further liberation of foreign direct investment coupled with sharp rise in global market before ending at 2-week low of 67.31 per dollar, still showing a loss of 23 paise or 0.34 per cent.
The domestic currency had ended higher by 13 paise or 0.19 per cent on last Friday.
The local currency hovered in a range of 67.28 and 67.70 per dollar during the day.
Meanwhile, the dollar index was down by 0.48 per cent at against the basket of six global currencies in the late afternoon trade.
The RBI fixed the reference rate for the dollar at 67.4087 and euro at 76.5358.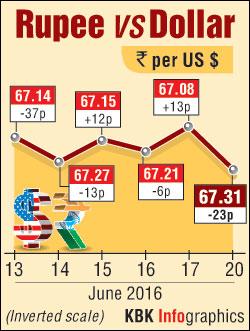 In cross-currency trades, the rupee fell further against the pound sterling to close at 98.49 from 95.86 on last Friday and also moved down against the euro to 76.25 from 75.53.
However, the domestic currency inched up further against the Japanese yen to 64.37 per 100 yens from 64.38.

In the global market, the pound moved sharply higher today after the latest Brexit polls indicated the "remain" campaign has regained lost ground ahead of Thursday's key referendum.
Oil prices started the week higher today with Brent crude trading above $50 a barrel, as global stock markets soared on growing expectations that the UK was more likely to remain in the European Union.
Brent crude, the global oil benchmark, rose 2.1 per cent to $50.20 a barrel on London's ICE Futures exchange. On the New York Mercantile Exchange, West Texas Intermediate futures were trading up 1.8 per cent at $48.84 a barrel.
In forward market, premium for dollar eased further on sustained receivings from exporters.
The benchmark 6-month premium for November moved down to 189-191 paise from the last weekend's level of 191-193 paise and far forward May 2017 contract eased to 384-386 paise from 386-388 paise.
Meanwhile, the benchmark Sensex ended higher by 241.01 points or 0.91 per cent.
Photograph: Reuters
© Copyright 2022 PTI. All rights reserved. Republication or redistribution of PTI content, including by framing or similar means, is expressly prohibited without the prior written consent.