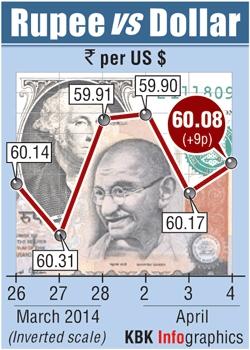 The rupee ended stronger on Friday after trading weaker for most part of the session on the back of a retreat in domestic shares from record highs and caution ahead of the US monthly jobs data.

Lack of large demand and foreign bank selling of the greenback in late trade helped the rupee notch up some gains, traders said.

The week, however, was volatile and was also marked by heavy dollar buying by the Reserve Bank of India looking to replenish its foreign exchange reserves and slow down the rise in the rupee.

Latest data showed foreign exchange reserves rose by $5.04 billion to $303.67 billion in the week to March 28.

Sentiment was cautious ahead of monthly U.S. jobs data later in the day, and ahead of India's five-week general elections set to kick off on Monday.

"The rupee's open next week depends on the NFP data. But election-related enthusiasm and continued foreign fund inflows relating to the same is likely to continue helping the rupee towards 59 levels," said Ashtosh Raina, head of foreign exchange trading at HDFC Bank.

The partially convertible rupee closed at 60.08/09 per dollar compared to 60.1650/1750 on Thursday.

The unit fell to a low of 60.3925 intraday, its lowest since March 25, before foreign banks stepped in to sell dollars.

The unit rose as high as 59.5950 on Wednesday, its strongest since July 30, before starting its retreat.

The BSE Sensex posted its biggest fall in a month, ending down for a second consecutive session and continuing to retreat from the record high hit in the previous sesssion as investors pared positions in blue chips.

Gains in shares and the rupee have been supported by heavy foreign buying totalling a net of $10.3 billion so far in 2014.

The future of these dollar flows will be a key factor in determining the rupee's fortunes.

In the offshore non-deliverable forwards, the one-month contract was at 60.50 while the three-month was at 61.21.


Image: The rupee had lost 26 paise to close at 60.16 against the dollar on Thursday; Photograph: Reuters
Source:
© Copyright 2022 Reuters Limited. All rights reserved. Republication or redistribution of Reuters content, including by framing or similar means, is expressly prohibited without the prior written consent of Reuters. Reuters shall not be liable for any errors or delays in the content, or for any actions taken in reliance thereon.