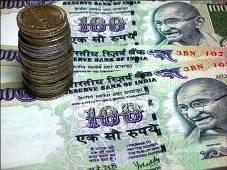 The rupee on Friday closed down by a whopping 48 paise at 55.42 against dollar amid spurt in demand for the US currency after Fitch's downgrade of Spain worsened the eurozone crisis.

The domestic currency, however, managed to log its first gain in 10 weeks, breaking the trend of nine consecutive weekly losses, the worst streak since the Lehman crisis in 2008. Last Friday, rupee had closed at 55.54, after touching a record low of 56.52 against dollar a day earlier.

At the Interbank Foreign Exchange (Forex) market, rupee resumed lower at 55.18 against yesterday's close of 54.94.

A smart rise in dollar overseas pushed the rupee to a day's low of 55.67.

While the rupee attempted to stage a late recovery by hitting 55.14 as local stocks saw fund inflows of Rs 200 crore (Rs 2 billion) on Friday, the move was in vain.

It finally concluded at 55.42, a fall of 48 paise or 0.87 per cent.

Forex dealers said with US Fed chief Ben Bernanke stopping short of mentioning a fresh stimulus and Fitch downgrading Spain's long-term credit rating, investors flocked to the US dollar, considered a safe-haven
asset.
"The rupee remained weak throughout the day on weakening global currencies on return of global risk aversion due to disappointment from Fed over additional QE infusion.
The downgrade of Spain by Fitch also weighed on it," said Pramit Brahmbhatt, CEO, Alpari Financial Services (India).
The euro today fell after the three-notch Spanish downgrade and signs of weakness in Italian and German economies. The euro fell 0.8 per cent to a low of USD 1.24, retreating from a two-week high of 1.26 hit on Thursday.
The dollar index was also up by nearly 0.65 per cent against a basket of currencies.
The sentiment favoured the dollar against rupee as the surprise rate cut announced by China yesterday was interpreted as a sign of faster-than-expected slowing down of the economy, said a Mumbai-based treasury head of a public sector bank.
Meanwhile, the BSE Sensex recovered its initial losses and closed higher by 69.82 points.
Share your ideas on how the rupee can be saved. See what others have to say.