The S&P BSE Sensex slipped 305 points to end at 25,400 and the Nifty50 dropped 87 points at 7,783.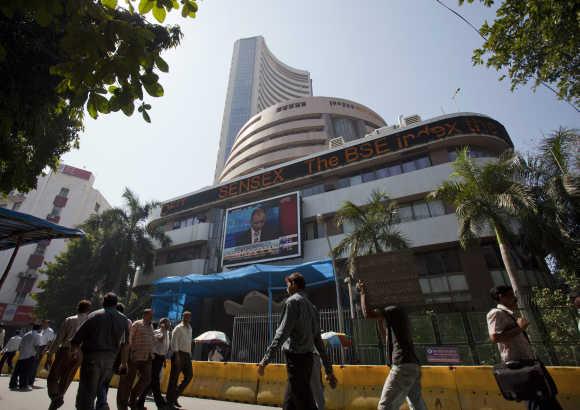 Markets suffered losses after likelihood of an interest rate hike by the US Federal Reserve in the month of June resurfaced.
A win for the BJP in Assam failed to uplift the mood on the street as downfall in the global equities amid decline in the crude oil prices dampened sentiments.
The rupee plummeted 27 paise against the US dollar to 67.24 owing to appreciation of the American currency overseas after the minutes of the Federal Reserve raised the possibility of an interest rate hike in June.
The S&P BSE Sensex slipped 305 points to end at 25,400 and the Nifty50 dropped 87 points at 7,783.
"Markets have lost ground in today's trade after fears of interest rate hike by the US Federal Reserve resurfaced. Also, strength in the dollar index and weak rupee are denting sentiments. However, shares of logistic companies gained on hope of passage of the GST bill in the monsoon session," said AK Prabhakar, head-research, IDBI Capital.
Market is witnessing a rangebound trading session from the past 10 days with Nifty trading between 7,700 and 7,950 levels. The further movement of the market will be determined once Nifty breaches these levels.
GLOBAL MARKET
The Federal Reserve's April minutes released on Wednesday raised hopes of an interest rate hike amid decline in oil prices sent the Asian shares lower.
Hong Kong's Hang Seng and Singapore's Straits Times and China's Shanghi Composite lost between 0.11%-1.5%.
Meanwhile, Japan's Nikkei closed flat with positive bias on depreciation of yen.
Following the tandem, European shares took a hit with FTSE 100, DAX and CAC 40 dropping between 0.5%-1.5%.
Oil prices declined after recently climbing to the highest levels so far this year amid supply concerns after disruptions in Nigeria, Canada, Libya and Venezuela.
AIADMK and Trinamool Congress retained power in Tamil Nadu and West Bengal respectively for a second consecutive term. Meanwhile, BJP won in Assam by ousting Congress and LDF set to form government in KeralaJ. Congress-DMK alliance won in Puducherry.
"Global equity markets are showing weakness in short term. Nifty has also starting following them. Nifty has made important short term top from 7,900 levels and selling pressure is being seen from there. On downside, Nifty has next support zone is 7,720-7,675 range and Nifty may test this support zone in coming days. If Nifty manages to hold 7,720-7675 zone in coming days, then recovery may also be seen from lower levels. On upside, until Nifty manages to close above 7,900 levels, upside may remain capped," said Puneet Kinra, AVP:Technical Research Analyst at Bonanza Portfolio.
STOCK TRENDS
Shares of logistics companies closed higher by up to 7% after Finance Minister Arun Jaitley said in an interview to All India Radio recently that the GST Bill will be put to vote in the monsoon session of Parliament if Congress continues to oppose the Legislation.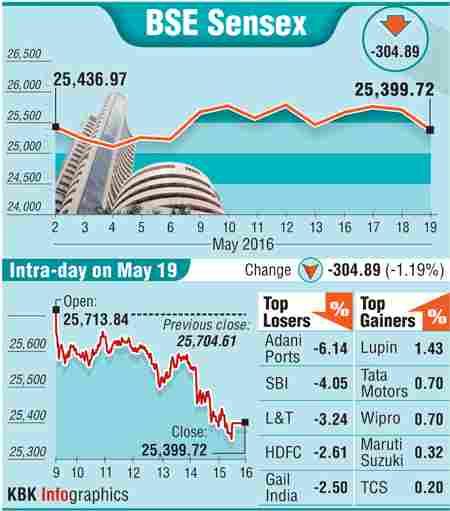 The GST bill, which has been approved by the Lok Sabha, is pending in the Rajya Sabha because of stiff resistance by the Congress.

For the GST bill to become a law, the GST bill also needs to be approved by half the state assemblies.
Allcargo Logistics, Gati, Patel Integrated Logistics, Kesar Terminals & Infrastructure, Snowman Logistics and VRL Logistics closed higher up to 7%.
Shares of oil and gas majors ONGC, RIL and GAIL suffered under pressure and declined up to 3%as slip in crude oil prices is likely hurt their margins.
Drugmaker Lupin surged 0.6% on posting better than expected results after the PAT rose 47.5% to 807 crore.
Net sale crossed 4000 crore for the first time ever. However, HDFC Bank lost 0.25% ahead of the results.
Meanwhile, Tata Motors closed flat with positive bias after Life Insurance Corporation (LIC) hiked its stake in Tata Motors to over 7% through various open market transactions.
Shares of technology companies witnessed an uptick on the back of a weak rupee. Wipro and TCS gained 0.2% and 0.6% respectively.
Sun TV shares sank over 13% after AIADMK looked set to return to power in Tamil Nadu. Sun TV shares had gained sharply over the last few days on hopes of a DMK victory in Tamil Nadu.
Drug firm Dr Reddy's Laboratories is recalling over 50,000 bottles of Ondansetron tablets made at the company's Bachupally plant in India, on account of failed impurities/ degradation specifications. The stock closed with mild losses.
State-owned BHEL closed flat after it commissioned a 250 mw thermal unit in Maharashtra.