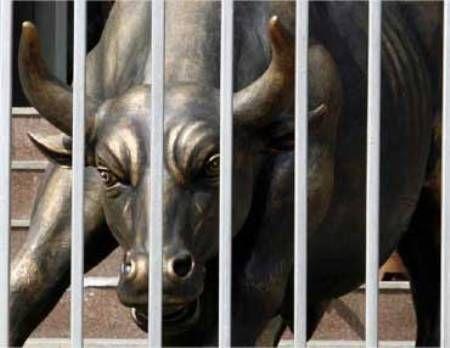 Benchmark indices failed to sustain gains and retreated from day's high dragged primarily by the losses in metals, information technology and bank shares as investors started to book profits in late noon deals.
Earlier, markets had scaled fresh all-time highs on the surprise post-budget rate cut by Reserve Bank of India (RBI).
The 30-share Sensex ended down 213 points at 29,380 and the 50-share Nifty closed down 74 points at 8,922.
Intra-day, Sensex reached the all-time high mark of 30,024.74 while Nifty touched the life-time high level of 9,119.20.
In the broader market, both the BSE Midcap index and Smallcap indices, down 1% and 1.2% each underperformed the front-liners. Market breadth in BSE ended negative with 1,882 declines against 1,010 advances.
A day after signing an agreement with Finance Ministry on inflation targeting, RBI surprised the markets with an early post-budget repo rate cut of 25 bps (basis points) to 7.5% from 7.75% which was again outside of central bank's scheduled policy review meetings as the earlier rate cut effected on January 15.
"RBI's latest rate cut of 25 basis points, while a surprise in its timing is in-line with our expectations of a sharp rate-cutting cycle over the coming quarters.
With inflation sustainably lower by 500bps, the RBI has in recent months acknowledged the scope for rate cuts and was only waiting for additional comfort that the government's fiscal policy would not play spoil-sport," said Dinesh Thakkar, chairman and managing director at Angel Broking in a note.
Analysts at Karvy believe that further monetary policy action will depend on number of factors including easing of supply constraints, improved availability of power, land, minerals and infrastructure, fiscal consolidation, the pass through of rate cuts by banks and the expected monsoon.
Citing weakness in some sectors of the economy and the overall global trend towards monetary easing as rationale for the rate cut the central bank also exuded confidence in the road map for fiscal consolidation as laid out in the Union Budget, 2015.
Commenting on how the markets reacted to RBI's surprise move, K Subramanyam assistant vice-president (institutional research), Asit C. Mehta Securities said, "The unexpected cut did take the market by surprise .
However, credit off-take is not dependant only on interest rates. A gradual revival in the economy would be of more help which would trigger credit off-take.
Hopefully this will follow and RBI's action would prove helpful. From market point of view this is bullish as equity becomes more attractive vis-a-vis falling interest rates."
On the macro-economic front, the HSBC services PMI rose to an eight-month high of 53.9 in February up from 52.4 in January indicating strong expansion in output across the sector.
Respondents cited robust growth of new business as the principle factor for the increase in activity.
Meanwhile, foreign portfolio investors (FPIs) bought shares worth a net Rs 773 crore on Tuesday, as per provisional data.
Buzzing Stocks
9 out of the 12 sectoral indices of BSE ended in red. BSE Metal index, down 2.4% was the top loser followed by BSE Oil & Gas and Power indices, down 1.3% each.
BSE Healthcare index, up 1.2% and BSE FMCG index, up 0.9% were the top losers. Bank stocks came under during late noon trades as traders booked profits at higher levels.
However, RBI rate cut may encourage large lenders to cut their lending rates boosting demand for home and auto loans and provide funds for various stalled and new projects.
Many stalled projects across the country are waiting for cash to restart work. The stock of stalled projects at the end of December 2014 stood at Rs 8.8 lakh crore or 7% of GDP.
ICICI Bank ended down 0.1%, Axis Bank and SBI declined over 3% and HDFC Bank shed 1.5%.
Sun Pharma gained over 6% on approval granted to Sun Pharma Advanced Research Company (SPARC) by US FDA for an antiepileptic drug.
The product will be manufactured by Sun Pharmaceutical Industries at its Halol (Gujarat) facility in India. SPARC was formed in 2007 when Sun Pharma separated out its active projects in drug discovery and innovation into a new company.
Dr Reddys Lab and Cipla have gained over 1% each. ITC gained over 1% after consecutive sessions of losses on the proposed larger-than-expected hike in excise duty on cigarettes in the Union Budget.
The biggest ever auction of spectrum by the Department of Telecommunications (DoT) started on Wednesday in the morning where government expects to garner Rs 80,000-1lakh crore from the sale of spectrum. Idea Cellular gained over 2%, Reliance Communication gained around 1% and Bharti Airtel closed 0.5% higher. Metal stocks were under pressure in today's session.
Hindalco declined over 3%, Sesa Sterliteended down over 4% and Tata Steel closed down 2%. Profit-taking in IT stocks led to Wipro losing around 1.8%, Infosys declining 0.7% and TCS losing 1.5%.