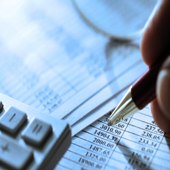 Markets ended flat after it staged a recovery in late-noon deals.

Weakness in banks and capital goods shares, along with volatility ahead of the F&O expiry took the Sensex to a low of 19,042.

The index finally ended up 10 points at 19,179. Nifty ended up three points at 5,837.

Meanwhile in Asia, Japan's Nikkei share average slipped on Tuesday as weak China manufacturing data heightened concerns over global growth, while investors cashed in some of the recent gains after the yen's slide towards 100 to the dollar stalled.

The benchmark ended 0.3 percent lower at 13,529.65 after hitting its highest closing level since July 2008 on Monday after the Group of 20 leading economies stopped short of criticising Japan's aggressive monetary expansionary policies, which have significantly weakened the yen.

The market may remain volatile this week as traders roll over positions in the futures & options segment from the near month April 2013 series to May 2013 series on Thursday.

Back home, improvement in performance of agriculture and manufacturing sectors is expected to push the economic growth rate to 6.4% in 2013-14 from 5% in the previous fiscal, PM's economic advisory panel said on Tuesday.

"Economy will grow at higher rate from now.

"We projected growth rate of 6.4% in the current fiscal", Prime Minister's Economic Advisory Council (PMEAC) Chairman C Rangarajan said while releasing the Economic Review for 2012-13 here.

Economic growth rate had slipped to decade's low of 5% in 2012-13 mainly on account of the impact of the global financial woes.

IT index rose 0.6% at 5,796 on bargain hunting after recent fall.

FMCG stocks edged marginally lower on profit booking after recent upmove triggered on reports of likely normal monsoon this year.

Bankex slipped 0.3% to 14,348 in spite of hopes of a rate cut in the next Reserve Bank of India's Monetary Policy Review.

Meanwhile, BSE mid-cap index slipped 0.4% at 6,283. Small-cap index held on to gains and advanced 0.4% at 6,051.

HDFC Bank reported a 30% jump in net profit at Rs 1,889 crore for the quarter ended March 2013
led by higher loan growth, fee income and stable asset quality.
It was Rs 1,453 crore in the same period a year ago.
The net interest income increased by 27% to Rs 4,295 crore as against Rs 3,388 crore in March 2012.
This was driven by a loan growth of 22.7% and Net Interest Margin of 4.5% for the quarter.
HDFC Bank slipped 1.5% at Rs 689.
Index heavyweight Reliance Industries (RIL) extended intraday gains -- up 1.7% at Rs 804 after the company's telecom arm and Bharti Airtel signed an agreement for international data connectivity.
Bharti Airtel, however dipped 0.4% at Rs 299.
SBI slipped 1.6% after launching 'State Bank Smart Payout Card' a prepaid card for contract labourers or blue collared workers.
It is also suitable for employees of small and medium enterprises companies.
Standard & Poor's Ratings Services assigned its 'BBB-' long-term corporate credit rating to ONGC Ltd.
The outlook on the company is negative, said a press release issued by S&P. The stock was down 0.5% at Rs 326.
In its first overseas funding raising in nearly three years, Tata Steel has begun roadshows to raise $750 million in Singapore. Shares of Tata Steel edged up 0.5%.
Shares of fertilisers companies rallied up to 9% in otherwise weak market on hopes of normal monsoon which will boost demand for fertilisers. Rashtriya Chemicals & Fertilizers, National Fertilisers, Chambal Fertilisers and Chemicals, Coromandel International and Deepak Fertilisers and Petrochemicals Corporation are trading higher in the range of 2-9% on the Bombay Stock Exchange.
Meanwhile, BSE will move scrips of 32 companies to the 'trade-to-trade' segment with effect from April 29, 2013.
Some of these companies include Resurgere Mines, Vijay Textiles, Visagar Financial Services and Zenith Health Care.
These stocks will now attract a circuit filter of 5% or lower and no netting off position will be allowed.
Also, the value at risk of 100% will be levied on these scrips.