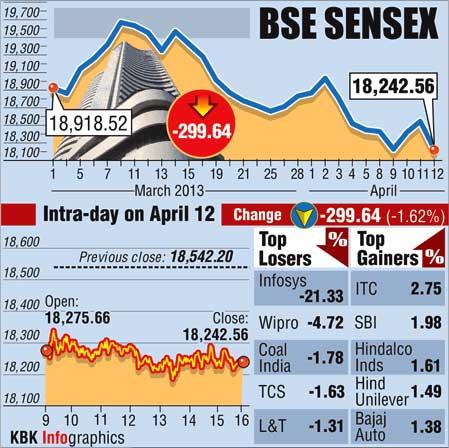 Markets end lower this Friday with 30-share sensitive index, Sensex touching its lowest level in nearly four months on back of significant selling witnessed in Information Technology index after Infosys guided for a weak revenue outlook for fiscal 2014.

BSE-IT index slumped over 10 percent after Infosys, the company with second-highest weightage on the index, guided for a revenue growth of 6-10%, much below the Nasscom estimate of 12-14% for the fiscal 2014.

"The numbers were very disappointing as the company failed to meet their margin expectations and moreover the revenue guidance given today at 6-10% was way below the general and industry expectation," said Daljeet Kohli, head of Research at India Nivesh.

Mirroring the concerns, the Bombay Stock Exchange's 30-share index Sensex slumped 299.64 points to end at 18,242.56 while the National Stock Exchange's 50-share Nifty declined 65.45 points and closed at 5,528.55.

Risk appetite was also frail after country's industrial production barely grew and was at 0.6% in February from a year earlier, government data showed on Friday.

In the April-February period, industrial production expanded an annual 0.9%.

Global shares declined as investors booked profits after the recent gains.

Asian markets ended lower with China's Shanghai Composite Index falling 0.6% to 2,207, Hong Kong's Hang Seng declined 0.06% to 22,089, Singapore's Straits Times fell 0.44% to 3,294 while Japan's Nikkei was down 0.47% to 13,485.

Back home, the key sectoral indices such as IT, technology, consumer durables and capital goods sectors declined while FMCG, power, bankex
lead gains on BSE.
The gainers on the Sensex included counters such as ITC and HUL gaining nearly 2-3%, SBI and HDFC Bank rose 2% and 1% respectively, Hindalco Industries added 1.6%, Dr Reddy's gained 0.8% on BSE.
The laggards included names such as Infosys slumping 21%, Wipro declining 4.7%, TCS dropped 1.6%, Maruti Suzuki and Mahindra & Mahindra were down 1% on BSE.
The key notable movers included stocks such as , ITC which gained around 3% on back of short-covering after falling 7.3% in past six trading days.
Infosys slumped over 20% after posting flat quarter-on-quarter net profit growth at Rs 2,394 crore for the fourth quarter ended March 31, 2013.
"Global economic uncertainties remain challenging for the IT industry," said S D Shibulal, CEO and Managing Director.
"We are progressing well on our strategic direction of building a high-quality company which is relevant to our clients.
"We are making all the investments necessary to differentiate ourselves in the market place while positioning ourselves as a partner of choice for our clients," he added.
Quarterly profit rose just 1.1% quarter-on-quarter, even as the company won orders from customers including German automaker BMW. Infosys also gave a full year revenue guidance of 6-10%for FY14, compared with an industry guidance of 10-14%. It gave no EPS guidance.
Lupin rose 2.3% at Rs 659.65, also its record high, after foreign institutional investors (FIIs) holding in the pharma major touched a historic high.
The broader markets ended negative with mid-caps and small-caps declining 0.1-0.4% on BSE.
The market breadth was negative. Out of 2,444 stocks traded, 1,258 stocks declined compared to 1,046 advanced on BSE.