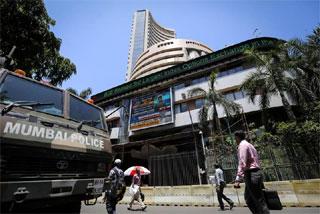 Benchmark shares indices gained for the fifth straight session and also ended at record highs for the second straight session after the International Monetary Fund said that India will grow at a faster pace than China in fiscal 2017.
The 30-share Sensex ended at a fresh record closing high of 28,889 after hitting a record high of 28,958.10 and the 50-share Nifty ended at a fresh record closing high of 8,730 after touching a life time high of 8,741.85.
IMF in its latest World Economic Outlook report pegged India's economic growth rate at 6.5 per cent for 2016-17, higher than China's projected growth rate of 6.3 per cent.
Meanwhile, IMF slightly cut its earlier projection for India's economic growth in 2015-16 to 6.3 per cent, from the 6.4 per cent made in October last year.
On the domestic front, finance Minister Arun Jaitley will present his first full-year budget on February 28 for the 2015-16 fiscal year and the railway budget will be presented on February 26 and economic survey the next day.
Meanwhile, foreign institutional investors were net buyers in equities to the tune of Rs 1,276 crore on Tuesday, as per provisional stock exchange data.
Local Currency:
The rupee trimmed its initial gains, but was still quoting up by 7 paise to 61.62 against the US currency in late morning deals today on bouts of dollar selling by banks and exporters.
Global Markets:
Japan's Nikkei share average fell on Wednesday as investors took profits from the sharp rises in the past two sessions, while expectations that the European Central Bank will unveil stimulus measures on Thursday limited losses.
The Nikkei ended 0.5% lower at 17,280.48.
The broader Topix slipped 0.5% to 1,390.61 and the JPX-Nikkei Index 400 shed 0.5% to 12,641.38.
Meanwhile, Hong Kong shares rose on Wednesday, in line with most Asian markets, as mainland stocks had big gains and investors expect China to make stimulus moves to boost economic growth.
The Shanghai Composite Index produced its biggest one-day rise in more than five years as investor confidence returned after both major mainland indexes plunged 7.7 % on Monday and he Hang Seng index rose 1.7%, to 24,352.58 points while the Shanghai Composite index gained 4.5% to 3,323.
Key Stocks:
On the sectoral front, BSE Consumer Durables index emerged as the top gainer up 1.4% followed by BSE Capital Goods, IT and Teck indices gaining up to 1%. BSE Bankex was up 0.4%.
However, BSE FMCG and Metal indices lost sheen and were down over 2% and 0.6%, respectively.
Mortgage lender, HDFC extended gains and was up nearly 3%.
The market value of the country's largest mortgage financier company crossing the Rs 2 lakh crore (Rs 2 trillion) mark today.
According to analysts housing finance companies (HFCs) have become more competitive than banks in a low interest rate environment given the reduction in cost of funds for banks will be lower than cost of fund reduction for HFCs.
Bank shares ended mixed with SBI up over 2.4% and ICICI Bank up 0.4% while Axis Bank lost around 1%.
Consumer Durables surged in today's trade with PC jeweler and Titan closing higher up to 9%.
The rate cut has revived the positive consumer sentiment as the loan on consumer goods will become cheaper. Further, drop in inflation has increased purchasing power of the customers.
Bharti Airtel gained up to 3.7% after the company declared that it has not received any order demanding 4.36 billion rupees from Department of Telecom.
FMCG major HUL gained 5% and emerged as the top gainer on the 30-share Sensex.
A decline in the rupee bolstered the technology pack. TCS and Infosys ended higher up to 2%.
Improvement in the country's macro economic factors and possibility of further cuts in interest rates pulled the Capital Goods stocks higher. L&T gained almost 1.5%.
On the flip side, weakest show of cigarettes business (about 85% of operating profits) impacted ITC's performance in the December 2014 quarter.
ITC posted revenues of Rs 8,800 crore (up 2.1% year-on-year) and 9.2% below consensus Bloomberg expectations of Rs 9,688 crore.
Cigarettes EBIT grew 8.8% year-on-year to Rs 2,886 crore in the quarter as against analysts' expectations of about 15-17% growth. The stock emerged as the top loser and ended down 5%.
Sesa Sterlite, Tata Steel and Hindalco were down between 1- 2% as iron ore hovers near its weakest level since 2009 amid plentiful supply and tepid demand from Chinese steel producers.
Oil prices edged up on Wednesday in a further sign of support around current levels, but analysts said the outlook for the next six months remained bleak due to oversupply. GAIL and ONGC dipped up to 1.3%.
Cipla, Tata Motors and Wipro were among the top losers on the BSE and were down between 0.5-3%.
The broader markets underperformed the benchmark indices- BSE Midcap and Smallcap indices were down 0.2% each.
Market breadth ended weak with 1,716 losers and 1,225 gainers on the BSE.