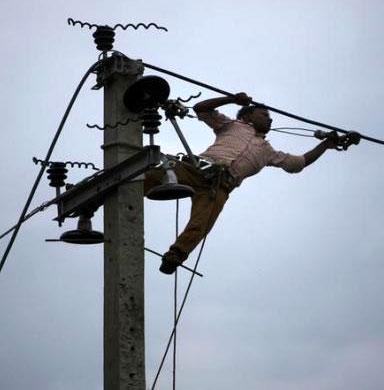 Goyal promises Rs 68 lakh-crore investment opportunity in power
The Narendra Modi government on Monday made a fervent pitch to investors to invest in the power, infrastructure, electronics, oil and defence sectors, while promising to break down barriers impeding investments.
The cast of ministers at the Make in India Week event was led by Power Minister Piyush Goyal, Defence Minister Manohar Parrikar, Communications & IT Minister Ravi Shankar Prasad, Petroleum Minister Dharmendra Pradhan and Maharashtra Chief Minister Devendra Fadnavis.
Modi and Finance Minister Arun Jaitley had already promised wide-ranging tax and banking reforms during their weekend visit here, setting the stage for the event to promote Indian manufacturing.
Goyal said India's coal, power and renewal energy sector would provide for $1 trillion (Rs 68 lakh crore) worth investment opportunities by 2030 and, of this, $250 billion (Rs 17 lakh crore) worth of investment opportunities would open up in the next five years.
"Whosoever misses this bus will miss the biggest opportunity in the world in the power sector ever," Goyal said, while promising to electrify 80-90 per cent of villages by March next year.
Goyal said the focus of the government was to ensure adequate electricity to industry, individuals and farmers. The government was paying due attention to transmission losses and power thefts and also on ensuring energy efficiency, he added.
The initiative to bring top ministers, government officials, businessmen from India and abroad under one roof was appreciated by India Inc.
Aditya Birla group's chairman Kumar Mangalam Birla said: "There is no secret sauce of manufacturing that we are not aware of. . . it is just like making an elephant dance.
"It just cannot happen in a few months."
GVK group's vice-chairman G V Sanjay Reddy said clarity of vision was needed to take India forward. "In the past few years, we can see this clarity and as the partnership between the government and private sector works well, we need to explore this route further," he said.
Attempting to spur investors' confidence, Commerce and Industry Minister Nirmala Sitharaman said manufacturing in the country was picking up and the perception that there was a slowdown was wrong.
"Manufacturing is actually picking up.
The last quarter figure showed that the country's gross domestic product growth will be over seven per cent.
It also revealed that manufacturing is growing over nine per cent," she said.
Fadnavis said his government was doing everything possible to make it easier to do business in Maharashtra.
"More than 250 clearances from the government can be now taken online instead of coming to government offices.
"This is part of our efforts to make it easier to do business.
"We are open for business."