Lightning Logistics, Shreyas Shibulal's start-up, rents out electric scooters along with the riders for last mile delivery.
Bibhu Ranjan Mishra reports.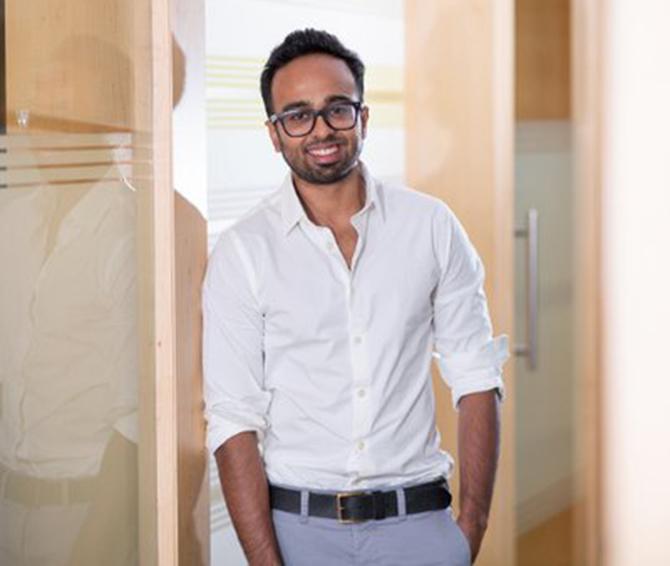 Shreyas Shibulal believes in taking "calculated risks".
This is something this second-generation entrepreneur confesses that he has learnt from his father S D Shibulal, co-founder, former chief executive officer and managing director of IT services major Infosys.
And that's the reason, Shreyas is not going for an expansion overdrive with his start-up venture, Lightning Logistics, by scaling up rapidly without getting to learn firsthand the intricacy of running a business that is based on services model.
Micelio, the venture fund set up by him with a corpus of around $20 million (Rs 150 crore) is doing due diligence of four start-ups though the investments may happen sometime towards the end of this fiscal year.
But Shreyas has his eyes on a larger goal of being a part of the electric vehicle journey that India is embarking upon, either as an investor, an entrepreneur, or even getting into manufacturing of EVs meant for business to business usage.
"I think, by nature, I make decisions in a calculated manner. And probably, this is one thing I have learnt from my dad though he always encourages me to start doing things instead of thinking too much," says the 27 year old.
He acknowledges that there's always a bit of pressure being the son of a successful entrepreneur, but he doesn't want any thought about fear of failure to distract him anyways.
During his school days, Shreyas says he was passionate about the automotive space.
His belief to work in this space got strengthened when he was pursuing a master's in embedded systems at the University of Pennsylvania after a degree in computer science from Haverford College.
This led him to do an internship at Elon Musk-run Tesla during his graduation.
After returning to India in 2016, Shreyas did not take a take a plunge into entrepreneurship immediately, but instead preferred to work with a data analytics company called Flutura, run by former Mindtree top executive Derick Jose, for around a year.
And he had a reason why he wanted to learn data science as well.
"Data science actually goes very well with automotive. It was a great experience, I really enjoyed the work (at Flutura)," he says.
Lightning Logistics, the start-up he launched almost nine months ago, rents out electric scooters along with the riders for last mile delivery.
Present across three cities for now including Bengaluru, Hyderabad and Chennai, the company owns around 1,000 electric scooters to cater to the last mile delivery requirement of companies in the e-commerce space including grocery, mom and pop stores, as well as courier.
But in the process, claims Shreyas, the company gathers a lot of data from its scooters that are fitted with telematics units.
"We get a lot of interesting data points from these bikes as these are deployed with the client 24/7 which will help us in further refining the design of the fleet in the future."
Even though the company procures these scooters from the OEMs, it does some amount of modification in terms of design, sometimes replacing the battery units to optimise their performance, and in order to be able to carry specific payloads for different clients.
The telematics units and sensors fitted with the scooters constantly monitor the health of vehicles, including vibration, temperature, and the pollution level apart from tracking their movement.
In the next one year, Shreyas says the company is looking at expanding the fleet size to 2,000, apart from foraying into tier-II cities.
"It will be interesting to see how do we collect data from smaller cities and understand the usage pattern," he adds.
In the next stage, Shreyas has set his sights on the EV manufacturing space also, by designing electric bikes that can be deployed for B2B use.
Even though it's still in ideation stage, he thinks there will be a huge demand for those as most EV manufacturers today are focused on the consumer space.
Shreyas's Micelio Fund is evaluating at least four early stage companies in the EV space after shortlisting around 130 applications it received since January 2019.
By the end of this fiscal year, Micelio looks at deploying $1 million in a couple of these companies while it is also scouting for co-investing opportunities.
As an enabler to the investment arm, Micelio has launched a discovery studio with an aim of enabling the start-ups in the EV space from the ideation to prototype to providing them the right technology and tools.
"I do what I love to do, and this (EV) certainly is the space where I want to be. I want to run a business which can create some bit of social impact," he says.