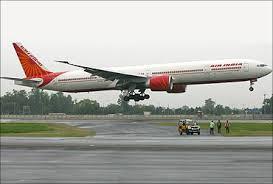 Air India's monopoly ended in 1991 when private-sector companies were allowed to enter commercial aviation. Till then, the national carrier was the king and passengers had to pay a fortune to fly.
The result of competition has been predictable.

With so much choice, Air India is in serious trouble.
The national carrier's market share has declined from a near-monopoly to 16.6 per cent as of September 2014.
The airline has accumulated losses of about Rs 20,000 crore (Rs 200 billion), has a debt of Rs 40,000 crore (Rs 400 billion) and is surviving on a government bail-out package of Rs 30,000 crore (Rs 300 billion).
Air India's net losses for the financial year ended March 31, 2014 stood at Rs 5,388 crore (Rs 53.88 billion).

However, it doesn't mean its private peers are not on cloud nine.
In fact, India's top five domestic airlines reported combined losses of Rs 9,737.47 crore (Rs 97.37 billion) for FY14 -- an increase of 85 per cent over Rs 5,275.66 crore (Rs 52.75 billion) recorded in the previous year.
But for a net profit of Rs 323 crore (Rs 3.23 billion) reported together by GoAir and IndiGo, the losses would have been even steeper at Rs 10,059.91 crore (Rs 100.59 billion).

While Jet Airways' net loss went up nearly seven-fold to Rs 3,667.85 crore (Rs 36.67 billion), that of SpiceJet, too, shot up four times to Rs 1,003 crore (Rs 10.03 billion) in FY14.
Industry leader IndiGo's profit dropped by 60 per cent to Rs 317 crore (Rs 3.17 billion) in the last financial year (though the airline continues to be the only one to have consistently reported profits over the past few years).
Wadias-promoted GoAir, too, saw net profit slump to Rs 5.44 crore (Rs 54.4 million) for FY14 from Rs 104 crore (Rs 1.04 billion) in the previous year, according to the airline's balance sheet filed with the Ministry of Corporate Affairs.
High operating costs in the domestic industry coupled with cut-throat competition among incumbent operators have meant that margins of all airlines remain under pressure.

High taxes on aviation turbine fuel, or ATF, in India have made its price among the highest in the world.
Fuel costs account for 50 per cent of an airline's operating expenses in the country.
Besides, pilot salaries have risen through the roof and international airlines have often raised concerns about the high airport charges in India.

Given the operating dynamics, Amber Dubey, partner and India head of aerospace and defence at KPMG, admits there are serious challenges for an airline to make money.
"Some of the new airlines may prove to be trailblazers, but we feel that given its low air traffic penetration, India can have not more than four strong pan-India carriers. The others may have to focus on niche routes and avoid head-on competition with the larger players."

Still, the future holds promise for efficiently-run airlines.
India is currently one of the most under-penetrated aviation markets in the world.
According to data shared by AirAsia Group while releasing financials in December 2012, India has a fleet of 422 aircraft for a population of 1.2 billion.
In comparison, China has a fleet of 1,981 aircraft for 1.3 billion people.
Centre for Asia Pacific Aviation's data for 2012 further indicates the number of domestic airline seats per capita is low in India: just 0.07 compared with 3.35 for Australia, 2.49 for the US, 1.38 for Canada and 1.05 for Japan.
Domestic air passengers in the country are projected to treble to 175 million a year by 2021 from 58 million in 2012.

That is the reason why three international airlines have announced investment plans since the government permitted foreign carriers to own up to 49 per cent stake in Indian airlines in September 2012.
In any case, experts say new carriers do not have legacy costs attached with them; they can start on a clean balance sheet, bring in global best practices -- a huge upside which would aid them to compete effectively in the Indian market.

The past has been rocky, which is evident from the fact that the initial experience of private airlines did not live up to the hype. Nine private airlines started operations once the sector opened up.
Six of them -- Damania Airways, ModiLuft, East West, Span Air, Gujarat Airways and Skyline NEPC -- downed shutters within five years. Most of them got into serious financial mess, or did not have the capital to expand operations.
Many fly-by-night operators entered the fray only to disappear.

Damania Airways, whose claim to fame was offering liquor on domestic flights, was sold within two years of operations to Chennai-based NEPC Group.
Air Sahara started offering what were the first examples of low-cost fares by giving reduced ticket price for customers who were willing to book tickets in advance.
Financial pressures again saw the airline getting sold off to Jet Airways in 2007.

The market, however, changed forever when Air Deccan, launched by G R Gopinath, audaciously offered fares on a par with or lower than travelling in a second class air-conditioned rail coach and nearly half of that on travelling in first-class AC.
It was about a third of what full-service air carriers were charging their well-heeled customers.
Although Gopinath said he would offer no food or frills or even seating numbers, first-time flyers (half his passengers) lapped it up, as they had never earlier dreamt they could fly, too.
Air Deccan also opened markets in smaller cities and towns, such as Jabalpur and Hubli, where hitherto no one flew, by connecting these with short-haul ATR aircraft.

However, Gopinath, too, was later forced to sell his airline to Kingfisher Airlines because of piling losses.

Newer players in 2005-06 such as IndiGo and GoAir made good of Air Deccan's shortcomings, tweaked the business model, improved customer services and operations so that there were fewer delays and cancellations, bringing in the reliability missing in low-cost carrier operations.
For that, they charged a slight premium.
The streamlining paid off.
LCCs grew rapidly in the intervening years to account for two-thirds of the domestic aviation market.

The entry of so many operators changed the service parameters decisively.
While Gopinath pioneered the concept of no-frills flying in India, Jet Airways and others offered on-time performance, improved attention in service, and extensive choice in in-flight entertainment -- all aspects previously overlooked by Air India.
Although Kingfisher has since nose-dived as have a few of its peers, what the entry of private airlines has done is to redefine the flying experience of Indian passengers.
And airlines like Indigo has shown there is no better experience for air passengers than on-time arrivals and departures.