Reliance has announced that it will roll out its e-commerce platform to as many as 1.2 million retailers and store owners in Gujarat. This is part of a nationwide roll-out that will come later this yea, reports Viveat Susan Pinto.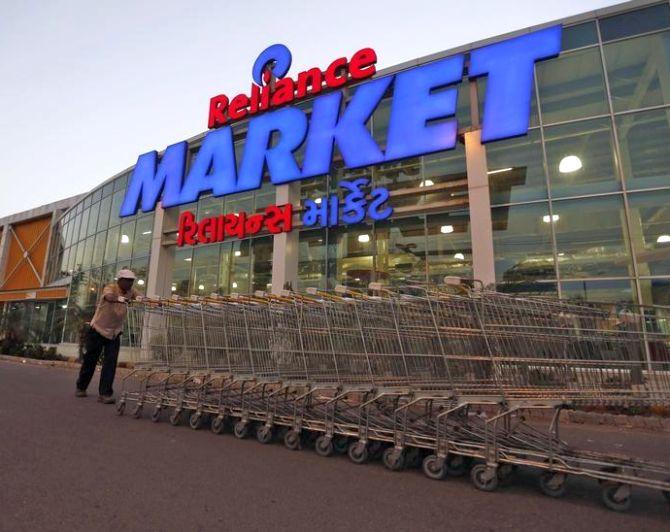 Reliance Retail, the country's largest retailer by revenue, is banking on a number of categories to grow its business.
Unlike most other retailers in the domestic market (barring the Future group), who depend mainly on one segment to drive their core retail operations, Reliance Retail's 'one-stop shop' approach is predicated on a cross-spectrum of verticals, including fashion and lifestyle, food, grocery, footwear, jewellery, toys and electronics.
The company has different chains for each of these segments, with no plans to go slow in any of these areas, it said during its third-quarter results last month.
For instance, the firm has entered into two licensing deals in the toys segment (with Disney and Chota Bheem makers Green Gold Animation), besides tying up with international brands such as Diesel, Marc Jacobs and Onitsuka Tiger in the fashion space.
It is also increasing the number of brand launches in the electronics vertical and rolling out smaller format stores (such as Qwikmart) in grocery.
Reliance Retail already has a tie-up with global toy retailer Hamleys in India and is operating stores for the latter here.
It sells fresh fruits and vegetables under Reliance Fresh, while grocery is handled by Reliance Smart.
In fashion and lifestyle, footwear and electronics, the firm has chains such as Reliance Trends, Reliance Footprint and Reliance Digital, respectively, which each having stores in excess of 500, according to sources.
In the third quarter alone, the company said it had added 780 stores across verticals.
It now operates a total of 9,907 stores ahead of all major organised retailers in the country, it said last month.
Though 43-45 per cent of its quarterly revenue still comes from petroleum retail and Jio sales points, it is the other side, constituting 55-57 per cent of its quarterly revenue, which shows maximum potential for growth, analysts said.
According to experts, segments included are grocery, electronics and fashion and lifestyle.
While Reliance Retail does not give a break-up of revenue coming from categories such as toys, footwear, food and jewellery, analysts said these were important verticals, too.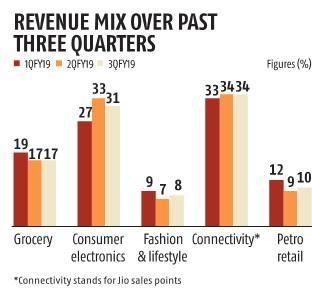 For the quarter ended December 31, 2018, Reliance Retail's revenue was Rs 35,577 crore.
For the nine months ended December 31, 2018, its revenue was Rs 93,903 crore.
If annualised, Reliance Retail's revenue for the year ended March 31, 2019, will be Rs 1.25 trillion, ahead of companies such as Avenue Supermarts (Rs 19,844 crore), Future Retail (Rs 19,691 crore) and Aditya Birla Fashion and Retail (Rs 8,269 crore).
Devangshu Dutta, chief executive officer, Third Eyesight, said Reliance Retail's 'one-stop shop' approach allowed it to negotiate aggressively with mall owners on rentals, integrate back-end operations for all formats and derive economies of scale overall.
"Reliance in general likes to dominate whichever business it is in.
"The strategy to enter multiple retail formats was articulated earlier by the group and it has been at it since then," he said.
At Reliance Industries' annual general meeting last year, Chairman Mukesh Ambani said Reliance Retail's physical stores would be integrated with Jio's digital infrastructure for a "new commerce platform".
"We see this as our biggest growth opportunity and one that will span the online-offline universe," he said when addressing shareholders.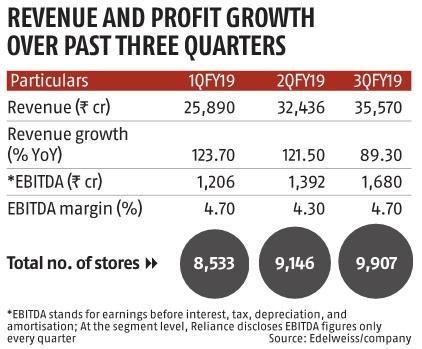 Since then, Reliance has announced that it will roll out its e-commerce platform to as many as 1.2 million retailers and store owners in Gujarat.
This is part of a nationwide roll-out that will come later this year as the group prepares to take on Walmart-led Flipart, Amazon and Alibaba-backed Paytm Mall.
Arvind Singhal, chairman of Technopak, said, "The e-commerce leg of its operation will push growth further for the company at a time when global e-tailers have been getting aggressive." While the foreign direct investment guidelines in e-commerce, which kicked in from February 1, has slowed down the pace of growth of players such as Amazon and Flipkart for now, the two are rejigging operations on the lines of the new rules spelt out by the government, experts said.
Foreign brokerage CLSA said Reliance Retail's core retail revenues had the potential to grow 12-fold in 10 years given its position in the market.
"Reliance has nearly 10,000 stores across the country.
"This coupled with an e-commerce platform could give it a huge lead in creating a formidable omni-channel model, a key factor for success in the Indian retail market," it said.