The RBI ban is only on fresh issuances, while the existing cards business remains unimpacted.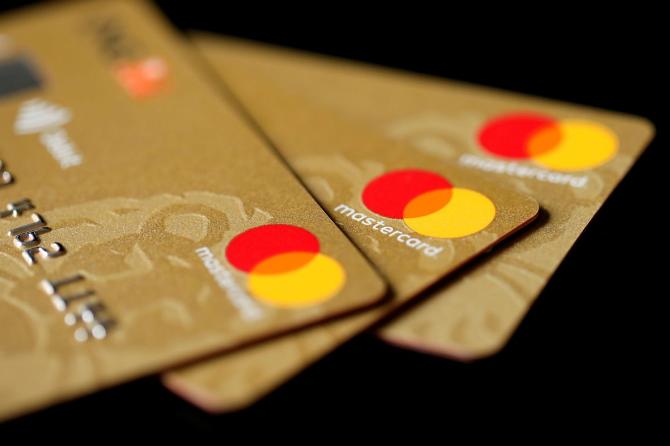 The Reserve Bank of India's (RBI's) move to ban Mastercard from issuing new cards for not complying with the local data storage guidelines may hit five private banks, a non-bank lender, and a major card-issuing company.
The impact is expected to be felt for a few months as these players transition to other card networks.
According to Nomura Research, RBL Bank, YES Bank, and Bajaj Finserv are the ones most impacted by the ban as all their credit card schemes are allied to Mastercard.
Among others, IndusInd Bank, Axis Bank and ICICI Bank have 35-40 per cent of their credit card schemes tied to Mastercard, the report said.
Though HDFC Bank has 45 per cent of its credit card schemes tied to Mastercard, since it is already restricted from issuing new cards, the lender is not incrementally impacted.
Cards-issuing major SBI Cards, too, will feel the heat due to the ban imposed on Mastercard (see table), though its small exposure means minimal impact.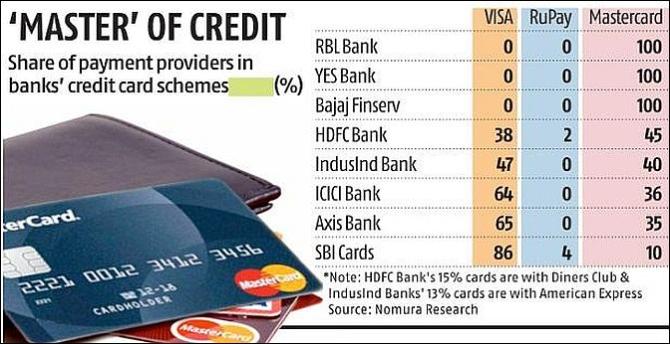 Private sector lender RBL Bank, the fifth-largest credit card issuer, said in an exchange notification that it has stitched together an agreement with Visa to issue credit cards.
The bank estimates that it will be able to start issuing credit cards on the Visa payment network after the technology integration, which estimates could take about 8-10 weeks.
In the interim, it expects its run rate of issuing 100,000 new credit cards per month to be impacted.
YES Bank, which had an exclusive tie-up with Mastercard for credit card issuance, told Business Standard: "For new credit card issuance, we are evaluating a migration to other platforms for seamless transition."
Experts, too, expect a lull in card issuance by private banks.
Their other income could also take a small hit during this phase.
However, public sector banks will not be impacted as they are increasingly issuing cards on the indigenous RuPay card payment network.
Suresh Ganapathy, associate director, Macquarie Capital Securities, said: "For a few months, there will be lower issuance of credit cards, depending on who has how much proportion of Mastercard.
"Debit card issuance may also be slower," he said, adding that it was a supply issue, which can be corrected in subsequent quarters.
"As of now, it looks like an 8-12 week problem," he added.
For debit cards, many may move towards RuPay and for credit cards banks' will move towards Visa.
The impact on players will vary, depending on their tie-ups with other card networks and the type of cards.
For example, RBL Bank has a tie-up with Mastercard for credit card issuance but its debit and prepaid cards were enabled on other payment networks in addition to Mastercard.
Similarly, YES Bank said, its debit cards are also available on Visa and RuPay platforms.
Banks that have exclusive tie-ups with Mastercard are the ones that have to forge partnerships with other networks.
Furthermore, another area of concern is co-branded credit cards, which are tie-ups between banks and vendors/merchants and a particular card network.
After the ban, the new issuance of co-branded cards with Mastercard also has to stop.
Axis Bank, one of the largest credit card issuers, has a co-branded credit card with Flipkart on the Mastercard platform.
Similarly, SBI Credit Card has co-branded credit cards with Tata Capital and Club Vistara on the Mastercard platform.
RBL Bank has a co-branded credit card with Bookmyshow on the Mastercard platform.
In FY21, Axis Bank sourced nearly 200,000 credit cards through its partnerships with Flipkart and Google Pay, according to its annual report.
"The bank's marquee card proposition 'Flipkart Axis Bank Credit Card', crossed a significant milestone of 1 million cards in force (CIF) in a record time of 20 months from its launch despite the pandemic slowing down acquisition for a few months," the bank said.
An email sent to Axis Bank seeking comments went unanswered.
An SBI Cards spokesperson said: "We have a diversified product portfolio on multiple networks, viz. Rupay, Visa, Mastercard, and American Express.
"Our new customer acquisition impact is minimal as there are only a few co-brand credit cards on the Mastercard network."
It should be noted that the RBI ban is only on fresh issuances, while the existing cards business remains unimpacted.
Visa is the largest player in the space, followed by Mastercard and RuPay, according to industry estimates.
But Mastercard is seen as enjoying a premium position in the industry.
RuPay is seen as a disruptor, fast catching up with its global peers.
While data on the market share of card operators is not available in the public domain, the National Payments Corporation of India had earlier this year said RuPay's market share by volume was 34 per cent and 30 per cent by value.
According to the RBI's latest figures, there are 902.3 million debit cards and 60.23 million credit cards.
In debit cards, all three players command a sizeable share, but in credit cards, Visa and Mastercard are the dominant players.
Photograph: Thomas White/Reuters