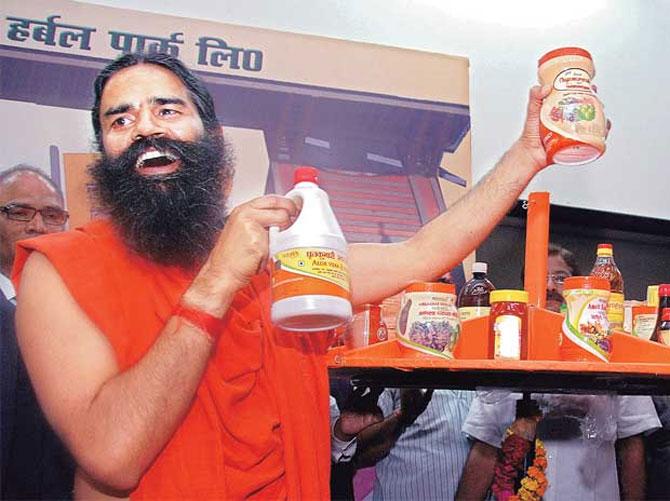 Patanjali Ayurved has opened the herbal and ayurvedic market for personal care products and foods, setting the stage for a fresh battle of brands in the categories
Even as Indian fast moving consumer goods companies battle an industry-wide slowdown in growth, many are hitching their wagons to the herbal-organic consumer products category, following in the footsteps of the Baba Ramdev's Patanjali Ayurved.
The yoga guru-cum-business czar is not only among the highest advertiser on television today, but by doubling up as brand ambassador for his company, he is increasing awareness for all ayurvedic-herbal products and further opening up the space.
And companies such as Emami, Hindustan Unilever, Dabur and Humalaya Drug Company are rebooting their category strategies and investing in new products and making new acquisitions to reap in the promise of the herbal age.
The FMCG industry is caught in a bind today; Q3 results for FY2015-16 indicate that sales volumes are not growing as rapidly.
According to a report by Nielsen (Anticipate with analytics: The future of FMCG) growth margins have diminished, leading to growth at a pace far slower than FMCG companies are used to.
All major players have been hit; HUL's revenue growth in the past seven quarters has consistently fallen, from 13.2 per cent in the June 2014 to 3.2 per cent now. ITC's non-cigarette FMCG business has fallen from 11-12 per cent then to seven per cent now.
These numbers stand starkly in contrast to the huge marketing and expansion blitz unleashed by one of the most recent entrants into the sector, the Rs 2,000-crore (Rs 20-billion) strong Patanjali Ayurved.
It is expanding into every possible daily-use item categories shocking competitors and impressing investors with rapid growth in its consumer base across income groups.
The fallout has been that there is greater awareness today about herbal and ayurvedic concepts and thus greater consumption of Patanjali products. Rivals are now hoping that they can also reap benefits from the emerging 'herbal trend'.
"It is good for the industry if more companies enter. Previously, people were not taking the herbal space seriously but they are now," Naresh Bhansali, CEO of finance, strategy and business development at Emami said.
Emami recently acquired the Kesh King brand of medicinal hair oil and has also launched sugar-free honey.
It was in the race to acquire Indulekha (a herbal hair oil brand) before bowing out to HUL.
HUL has, in turn, revived its Ayush portfolio of brands apart from getting back into the herbal hair oil category, one that it had moved away from not so long ago.
Are these companies ready to compete with Patanjali? Most say that their products are different and hence do not directly clash.
But "There would be potential competition in the times to come," Bhansali said.
"We feel that the entry of more players in this market would actually push demand and accelerate growth in this segment as there will be more awareness about this ancient science and its benefits," Dabur India's chief financial officer Lalit Malik said.
In the past the herbal category has suffered for the lack of credible players and poor labelling of products and of course, low consumer awareness.
The advent of Patanjali has changed all that.
Himalaya Drug Company, which has registered a CAGR of 25 per cent across categories like facewash, toothpaste and shampoos believes that Patanjali will help competition intensify after expanding the playing field.
"There is an affinity for herbal products amongst consumers and Patanjali will help grow this segment," Rajesh Krishnamurthy, business head of consumer products division at the Himalaya Drug Company said.
"Another factor (as to) why herbal products didn't pick up well in the past is because of the prevalence of herbal home remedies.
"Sourcing of the quality ingredients for consumer products is also tough as well as the scale which is needed to source them," Rajat Wahi, head of consumer market at KPMG said. Besides, herbal products were also seen as expensive and premium offerings.
Patanjali tackled the problem on both fronts.
It has consistently advertised its products harping on quality and purity thereby hoping to dispel consumers' doubts on that score. And it has managed to keep prices low.
Most importantly, it has consistently communicated the special features of its products as well as the price.
It is currently aggressively advertising its honey as 43 per cent cheaper than a competitor's product (Dabur honey) for a 250 gm pack. Dabur's 500gm honey is priced at Rs 199; Patanjali honey 500gm is available for Rs 135 (32 per cent cheaper). Patanjali has also steered away from celebrity endorsements.
"While lower price tags may help them gain market share in the short-term, we feel that in the medium to long term, entry of these new players will help expand the market pie and will be beneficial for all," Malik said.
Dabur believes that consumers will always settle for quality.
"They purchase and they match the quality of the products with the price tags," he added.
Himalaya, which is pitted against Patanjali Ayurved is also aggressively branding and marketing its products.
"We have an 80-year-old legacy in herbal pharmaceuticals with leading brands that impart credibility to Himalaya and help us gain consumer trust," Krishnamurthy said.
Patanjali, meanwhile, continues to take its peers head on.
Image: Baba Ramdev with Patanjali products. Photograph: Kind courtesy, Rediff Archives