Pawan Munjal, chairman and managing director of Hero MotoCorp, the country's biggest two-wheeler maker, leads the pack among automobile CEOs.
Illustration: Uttam Ghosh/Rediff.com
Annual compensation of Rs 10 crore has become the norm for managing directors and chief executive officers of the country's top automobile companies.
Pawan Goenka of Mahindra & Mahindra and Vinod Dasari of Ashok Leyland have joined the club in the last two years, while Eicher Motors' Siddhartha Lal is almost there.
Lal received a remuneration of Rs 9.5 crore in 2017-18.
A booming demand and a corresponding increase in profitability in the last couple of years have augured well for those running the automobile firms.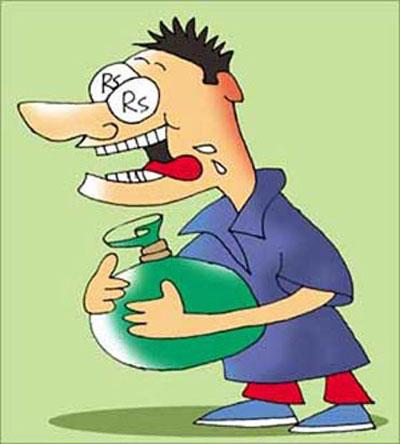 A significant portion of the compensation is linked to the performance of the business, and MDs and CEOs are rewarded accordingly.
Pawan Munjal, chairman and managing director of Hero MotoCorp, the country's biggest two-wheeler maker, leads the pack among automobile CEOs.
He earned Rs 75.5 crore in compensation last year, followed by Bajaj Auto's Rajiv Bajaj (Rs 28.3 crore) and Tata Motors' Guenter Butschek (Rs 26.41 crore).
Most of them saw double-digit growth in remuneration during 2017-18.
Munjal, who is among the top CEOs in the country in terms of remuneration, saw his income jump more than 26 per cent over the previous financial year's package.
A large chunk of Munjal's remuneration, Rs 51.7 crore, is in the form of commission.
His remuneration had increased by less than 4 per cent in 2016-17.
Bajaj, who manages the second-biggest motorcycle firm, saw his compensation move up by over 10 per cent in 2017-18 to Rs 28.3 crore.
The increase is lower than the 14.62 per cent raise in 2016-17.
Butschek, the man leading the turnaround at Tata Motors, has earned a 17 per cent rise in remuneration on the base of his first full-year remuneration in 2016-17.
His total remuneration stood at Rs 26.41 million last year, as against Rs 22.55 million a year ago.
While Tata Motors' domestic business is yet to turn profitable, it has cut down losses and improved market share under Butschek.
A revival in commercial vehicle business is visible in the remuneration of Vinod Dasari, MD and CEO at Ashok Leyland.
After 61 per cent growth in compensation during 2016-17, Dasari's remuneration grew by an impressive 46 per cent to Rs 18.8 crore a year later.
The company's profit surged 28 per cent to Rs 1,562 crore in 2017-18, after 214 per cent growth in 2016-17.
According to Eicher Motors' annual report for 2017-18, MD and CEO Siddhartha Lal's remuneration was almost flat last year, with a mere 0.12 per cent growth.
Lal, whose company thrives on Royal Enfield bullets, got a compensation of Rs 9.51 crore in 2017-18 against Rs 9.5 crore in the previous year.
Pawan Goenka, MD of tractor-to-truck maker M&M, saw his remuneration cross the Rs 10 crore-mark for the first time in 2017-18.
He got a compensation of Rs 12.21 crore last year, a 65 per cent increase over Rs 7.39 crore in FY17. His compensation had seen a growth of 16 per cent in FY17. A revival in tractor sales is boosting profit for the segment's biggest player.
But, remuneration is not all that a number of these CEOs get every year.
Three of these six CEOs -- Pawan Munjal, Rajiv Bajaj and Siddhartha Lal -- are also promoters and, accordingly, get crores of rupees every year in the form of dividends.
This dividend income has also been on the rise in recent years in line with improving profitability. Take the case of the Munjal family, which received Rs 657 crore in dividend last year.