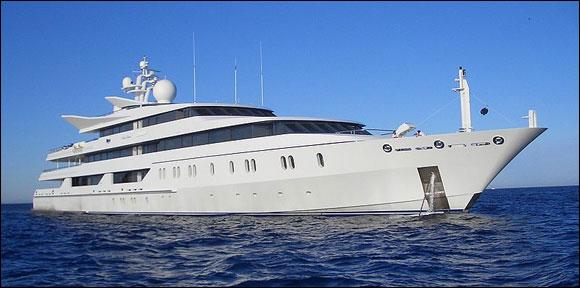 Vijay Mallya went on a buying spree abroad, including a penthouse in New York's Trump Plaza, but had to sell some as troubles mounted at home
In his declaration of interests to the Rajya Sabha in 2014, Vijay Mallya listed himself as the chairman of three companies abroad.
These are London-based Kingfisher Beer Europe Ltd, California-based Mendocino Brewing Company Inc and UBICS Inc, based in Pennsylvania.
He earned a little over Rs 2 crore (Rs 20 million) per annum from these three positions, listed as regular remunerated activity, in mynetainfo.co.in, a website that collates and publishes details about parliamentarians.
Mallya, chairman of the UB Group and a Rajya Sabha member, is facing legal proceedings for allegedly defaulting on loans of Rs 9,000 crore (Rs 90 billion).
A consortium of banks has moved court for the freezing of his passport.
However, as the Centre informed the Supreme Court on Wednesday, Mallya left the country on March 2, possibly for the UK.
Mendocino, a Nasdaq-listed brewer, and its subsidiary KBEL could be among the key breadwinners for Mallya if his self-imposed exile proves to be a long one.
"Many of these overseas companies are not that big.
"The US company is a microbrewery and KBEL is a distribution company -- it buys beer from India and sells it in the UK and Europe," said a finance sector veteran, familiar with Mallya's business deals.
"I suspect many of these personal assets were also on the books of some of the public companies. Mallya's biggest trouble was that he was always over-leveraged."
The official website of Mendocino continues to show Mallya as its chairman.
"It was in 1997 that Vijay Mallya took interest in Mendocino Brewing Company. Mallya. . . believed that given the capital, Mendocino Brewing could remain in a position of strength for years to come," the website reads.
The Mendocino buy came 10 years after the baron set foot on the Pacific coast. Mallya or his representatives could not be reached for this story.
Homes on all coasts
Mallya's home in Sausalito provides "views stretching from Belvedere to the Bay Bridge and San Francisco," according to a 2003 report in the San Francisco Gate.
The walls of his Sausalito mansion feature Picasso, Renoir, Chagall, and Turner. Mallya bought this villa in 1987, when "he had come to the Bay Area when his wife was having a difficult pregnancy, and doctors ordered her to stay".
Mallya bought the 11,000 sq ft mansion "out of foreclosure for $1.2 million when it was just a shell, and sank many times that amount into its renovation".
Tiger Woods, the Williams' sisters, and Hollywood star Robert Redford were among the celebrities who called Suaslito home.
On the East Coast, Mallya has a penthouse in the famed Trump Plaza in New York, which is one of the most expensive apartments in the US.
He is said to have paid $2.4 million for this penthouse, according to a September 2010 report by observer.com.
The tower is located in world's premier and the most exclusive shopping street.
This Observer.com report added Mallya had 26 residences around the world.
As his personal wealth started booming with the bull-run in Indian stock markets in early 2000s, Mallya went on a buying spree.
From the sword of Tipu Sultan, Mahatma Gandhi's memorabilia to luxury yachts and islands were swooped up as billionaire's lists rolled out the red carpet.
Islands & resorts
According to the website bornrich.com that has an undated Mallya profile, the Mabula Game Lodge is set in one of South Africa's finest private game reserves.
Located north of Johannesburg, the game lodge sits on 12,000 hectares of land.
The website said Vijay Mallya continues to bedazzle others through his sheer sense of style and has purchased a unique piece of luxury real estate on the island of Sainte-Marguerite, the largest of the four islands of Lérins Islands, two of which are uninhabited.
Reports also talked about castles in Scotland and townhouses in London, where he is said to have headed after the sealing the $75-million settlement with Diageo, which bought his flagship United Spirits, about four years ago.
In 2009 The Economic Times reported, quoting multiple sources, that Mallya had bought an island in Monte Carlo for about Rs 750-800 crore (Rs 7.5-8 billion).
But it also quoted Mallya as saying, "Island? Rs 800 crore (Rs 8 billion)? Complete nonsense. Please quote me on this."'
Mallya is said to have owned a string of islands in the Maldives, according to the same ET report.
There were also reports of land in "Thinnakara Island in Lakshadweep, which had only been leased to build a resort".
It never took shape because the issue was entangled in court, a Kingfisher spokesperson would tell Business Standard in 2013.
However, the whispers about the Monte Carlo connection continued to linger.
In his autobiography Simplifly published in 2010, Captain Gopinath, who sold the ill-fated Air Deccan that would become the millstone around Mallya's neck, recalled his 2005 negotiations as followed: "Mallya was calling from Monte Carlo where his $100-million personal yacht, the Indian Empress, was berthed.
"He was hosting his famed annual party on the eve of the Formula One race. He said: 'I am at the dinner with a host of VIPs.
"The Prince of Monaco is here, the stars of Formula One are here. I am calling you in the midst of all this because it is very important to me.'"
That $100-million yacht was Indian Empress.
Shamita Singha, a Kingfisher calendar model who spoke to the DNA in October 2006, said, "We also shot on Dr (Vijay) Mallya's latest yacht -- which, incidentally, is 10 times larger than his earlier Indian Princess."
But the Empress could not be maintained.
In 2013, the Business Standard reported how the Empress had slipped away from the 'king of good times': "The showpiece of his collection, arguably, was the Indian Empress -- a 95-metre 'megayacht' with a helipad that Mallya is said to have bought from a Qatari sheikh in 2006.
The yacht, it turns out, was sold by Mallya in 2011.
"He now merely charters it for 30 days a year in Europe, according to an agreement valid till 2015."
The Kingfisher spokesperson had then told Business Standard that one of the main reasons for the sale was piracy in the Red Sea "which precluded the yacht from coming to India".
The only yacht Mallya now owns is the Kalizma, a vintage motor yacht built in 1906, the report had said.
Flying high
Private aircraft were another indulgence of Mallya's -- but not anymore.
The Boeing 727 and Gulfstream owned by his companies have both been sold.
Later, Mallya started using an Airbus 319 CJ that he leased from Deutsche Bank in London, and a Hawker 700 owned by Shaw Wallace.
In April 2015, an 11-seat jet, an HS 125-700B was ripped to pieces so that its metal can be sold for scrap.
It was auctioned off by the Mumbai International Airport Private Limited, and bought for Rs 22 lakh (Rs 2.2 million) by a Kurla-based company, Silent Enterprises.
Image: Indian Empress. Photograph: Courtesy, Wikimedia Commons