Mods let Lenovo fight the features battle with premium players like Apple and Samsung yet keep the price of the phone low, thereby drawing in aspirational customers who can't afford high-priced feature-rich handsets, says Arnab Dutta.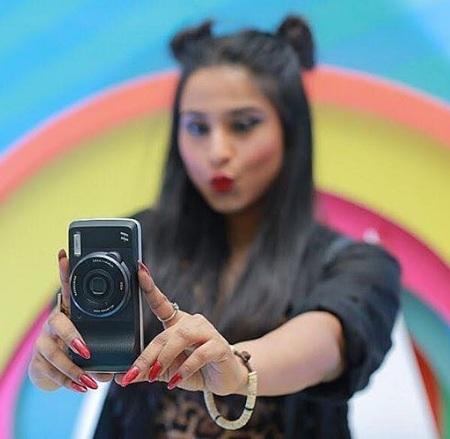 When Lenovo acquired the Motorola brand from Google close to three years back, many had predicted two ways forward: the Chinese handset maker would bury the brand or it will let it fade out from every other country except its native market in the US.
Lenovo has chosen to go down neither path; instead following in the footsteps of other Chinese companies, it has chosen to keep both brands alive.
And in countries such as India, it is even cranking up the noise around its acquired brand to push through the transformation from Motorola to Moto.
The team at Lenovo describes the Moto brand journey in India as an 'attack' on the premium segment.
The premium segment in India covers a large band (all phones above Rs 20,000 qualify) and thrives on a near fanatic obsession with new models with new features. Think Samsung, Apple or the line-up of Chinese handsets such as Vivo and OnePlus.
While there is very little to differentiate between these brands on the basis of design and styling, each competes with the other on features.
Motorola that has just 1.2 per cent share of this market (Counterpoint Research) has waded in with a focus on 'mods', attachments that can be slipped on to the device to give it a better speaker, stronger batteries or a whacky look or anything else. It lets users transform the phone without really having to change the device.
Mods let Lenovo fight the features battle with the rest of the premium players and keep the price of the phone low, thereby drawing in aspirational customers who can't afford the high-priced feature-rich handsets.
Lenovo also lets developers send in their own ideas for mods and incubates a chosen few.
On its website, it says: 'Lenovo Capital has set aside up to $1,000,000 to help bring the best Moto Mod ideas to market.' It has called this the 'Transform the smartphone challenge'.
Sudhin Mathur, managing director, Motorola Mobilty India and country head Lenovo Mobile Biz Group, says that while Moto has been associated with premium products in the past, 2017 has begun with a renewed thrust and a fresh strategy to place the brand firmly in this category.
"It's a category that will be built on the Mods and not the products (handsets). Consumers are now upgrading from one smartphone to another and they are looking for better user experience. And that's where the 'mod' strategy comes into play, it is a clear focus area (for us)", said Mathur.
Currently five types of mods are available in India, but Lenovo will launch up to four mods every quarter in 2017, taking the number up to 15 by the year end. What this does is it lets the brand look fresh without a complete overhaul of the model.
---
Also read: India's Chinese love affair
What makes Xiaomi so successful in India?
---
At present, the premium handsets market in India is dominated by two global leaders -- Apple and Samsung. The two make up around 70 per cent of the market together.
Chinese brand Vivo is number three with 11 per cent share of the market, according to Counterpoint Research.
All the brands are banking on superior features (especially the camera and its selfie avatar), software and innovative solutions to meet the needs of the consumers.
Lenovo says that mods enhance the user experience and helps it play the features game innovatively. They also help draw a line between the old Motorola and the new Moto brand.
India has an old association with the Motorola brand and the company wants to leverage the association while sending out the message that this is an entirely different product.
The focus on Moto and the premium handsets market is not without rationale. Although the segment constitutes less than 10 per cent of the smartphones pie by volume, it generates nearly a third of the total sales in value terms and usually delivers a higher profit margin for companies.
Lenovo says that in the Indian market, Moto's identity is that of a superior brand and it will leverage that.
"We identified that there are two types of consumers in terms of buying behaviour, who are very different from each other. Those who purchase Moto phones are urbane, brand conscious and more brand-loyal while Lenovo customers are more specs and tech oriented. Price-feature comparison plays a key role in their buying decision," Mathur said.
To give the required impetus to distribution of Moto handsets, Lenovo is also ramping up its offline presence.
So far an online-only brand, Moto phones are now being placed on shelves of offline retail stores that generate nearly two-third of handset sales.
"We will be showcasing these premium offerings through our experience zones. While, these were available mostly online, now we are going offline through large format retail stores or key multi-brand outlets. There will be a lot of Moto Z activation programs as consumers still prefer the touch and feel experience before purchase. Top metros and tier I towns, which currently constitute about 80 per cent of the premium segment, will be covered," said Mathur.
IMAGE: The Moto Z with the Hassleblad Mod. Photograph: Courtesy thearchattire/Instagram.
Click on Related Links for insights into the Moto phones that made a mark.