Sudipto Dey in conversation with Walmart India president and CEO Krish Iyer.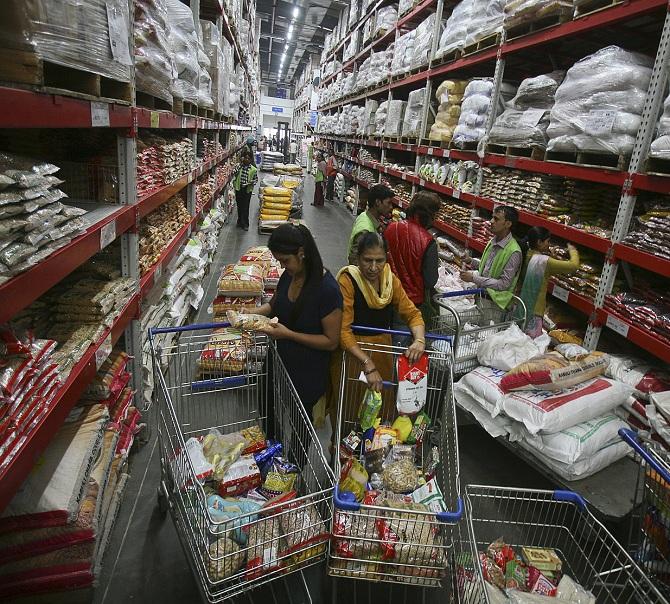 IMAGE: Inside a Best Price Modern Wholesale store, a joint venture of Walmart Stores Inc and Bharti Enterprises, in Punjab. Walmart India became a 100 per cent subsidiary of Walmart Stores International from January 2014. Photograph: Ajay Verma/Reuters.
Walmart India is gearing up to roll out more stores from the first quarter of the next financial year, says its president and chief executive officer, Krish Iyer.
On the sidelines of the graduation ceremony of the Walmart Women Entrepreneurship Development Programme, Iyer shared his views with a select group of journalists on the global retail major's various India initiatives.
When you joined in 2014, Walmart's India project was going through some turbulence. How have the past three years been in terms of what you set out to achieve?
Walmart India became a 100 per cent subsidiary of Walmart Stores International from January 2014.
The past three years were good.
Our focus was on building a strategy for our cash-and-carry business, creating growth plans for the next few years, and setting the agenda for the right way of doing business. There was a lot of focus on compliance and (having) robust processes within the business.
Overall, we have built the foundation for a pipeline of stores for future growth.
We have done well in all these measures. We are ready to roll out more stores on the ground from early next year.
We have 21 stores, and are on track to have 50 by 2021. As we speak, we have 16 stores in the pipeline, at various stages of development.
Are you looking at presence in any state other than where you are present?
Our major focus has been on states where we are already present. So, the new stores will be in Punjab, Haryana, Himachal Pradesh, Uttarakhand, Uttar Pradesh, Andhra Pradesh, Telangana, Madhya Pradesh and Maharashtra.
We are currently not looking at new states, but have been studying Karnataka with a lot of interest. A deeper penetration in existing states makes better business sense.
How much of what is sold in India is being sourced from within the country?
Local sourcing makes a lot of sense from economics point of view. Imports are expensive.
Safely, 97 per cent of what we sell in our stores is locally procured. Locally produced goods have a lot of demand with our customers, namely the kirana stores.
Has Walmart India taken any call on whether it wants to enter the food retail space (which was opened up for 100 per cent FDI last year)?
It (100 per cent FDI) is a good initiative towards helping farmers double their income. It will reduce food wastage and help in development of cold storage backend.
We have been evaluating the guidelines and at an appropriate time will look at that sector.
How ready is Walmart India for GST from July 1?
As soon as the rates are announced, we would be 100 per cent ready. The preparation is in progress.
It is also important to help our partners in the whole process. Many of our partners are small and medium enterprises and regional suppliers. Helping and educating them is also an important part of the agenda.
What is the idea behind Walmart Women Entrepreneurship Development Programme? Are there plans to increase the number of woman suppliers in the supply chain?
The focus of the women entrepreneurship programme has been on depth and not scale.
We have taken 32 women-owned businesses as part of the nine-month programme that initially started as a pilot.
Strategically, it works well for Walmart India to have a pipeline of women suppliers in the ecosystem. When women become entrepreneurs, their social status in the country also goes up.
We currently have around 50 women suppliers in our ecosystem -- around nine from this group are getting on board.
We started in 2015 with the target of doubling the sourcing (from women suppliers) from the India market. We will launch another programme this year to take this forward.
One of the researches done by Walmart in the United States a couple of years ago showed that products from women-owned business were perceived to be of higher quality by the customers.
We launched a woman-owned business logo and put it on these products and the shelf. We found customers had greater liking for these products.
From that point of view, supporting women-owned business is a strategic initiative and makes good business sense.
As part of increasing gender diversity in India, we have been able to increase women participation at the store level to 16 per cent across all our stores.
Our target is to have 25 per cent women store managers over the next five years.