It was in the seventies that Himalaya Drug Company began to explore markets beyond India and focused on research and scientific data to establish the safety and efficacy of its herbal products.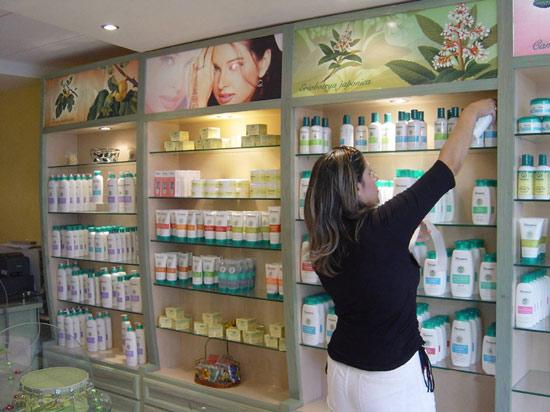 Image: Today Himalaya is present in 91 countries and by 2020, global revenues will account for 50 per cent of its business. Photograph: Courtesy, Himalaya Herbals
We are talking about the year 1975 - that's nearly 40 years ago when Himalaya moved its base from Mumbai (then Bombay), the commercial capital of India, to a deserted outpost in Bangalore, a city known for its greenery and weather. This decision, however, changed the course of the company.
Today, this plot of land in Bangalore has transformed into Himalaya's 28-acre sprawling campus with an EU-GMP-certified manufacturing facility, an 80,000 square feet R&D and a lush green organic garden.
It is also the company's headquarters for its India operations.
The move to Bangalore came with its share of heartache.
The founder of Himalaya, Mohammed Manal had started the company in 1930 in Dehradun with a mission to contemporarise Ayurveda through modern scientific research.
Although he had no formal scientific training, he possessed a love for nature, boundless curiosity and a firm belief in herbal healthcare.
But he was equally convinced that if herbal medicine had to be taken seriously it had to be validated by empirical evidence.
This was a far reaching thought.
In the 1930s, people still believed in herbal goodness but the growing influence of Western education meant that critical reasoning was becoming important and traditional ideologies and belief systems were being challenged.
From early on, Manal focused on research and scientific data to prove safety and efficacy of Himalaya products, which at the time were a handful of brands. The big break came in 1955, when the company launched Liv.52, a hepato-protective that soon became its flagship brand.
Even today, Liv.52 is the crown jewel in the pharmaceutical portfolio, registering over Rs 250 crore (Rs 2.50 billion) in revenues and being the only herbal medicine in India's top 10 selling drugs.
Himalaya moved to Bombay in the 1950s. All the action was happening there. So when our founder's son, Meraj Manal, told his father that he was thinking of relocating the business to Bangalore, obviously it didn't go down too well. In fact, he self-financed this move by selling his flat in Mumbai to build a manufacturing unit here.
The Bangalore facility gave Himalaya the infrastructure it needed to develop high quality products. It was one of the first herbal manufacturing units in India to be granted a good manufacturing practices (GMP) certificate.
The fact that Himalaya now churned out a much higher quantity of tablets and had succeeded in standardising the manufacturing process, translated into greater acceptability from doctors of modern medicine.
Most importantly, the facility allowed Himalaya to flex its muscles overseas, something Meraj Manal had always dreamed of for the company.
The year 1975 was both a good and tough period for Himalaya - an inflection point.
We moved to Bangalore and then took the decision to enter the US, the world's largest and most competitive market. At the time it seemed more reckless than bold. But now we know that these were watershed moments in our company's history.
Today we are present in 91 countries and by 2020, global revenues will account for 50 per cent of our business.
Entering the US market was like baptism by fire for Himalaya. It was also a humbling experience for the team - back then no one knew much about India, let alone a small herbal company called Himalaya.
To stay alive in a market like the US, we needed to fight harder and smarter.
Meraj Manal moved to the US and studied the market, paying close attention to quality and safety standards.
He pushed the R&D team to develop products that met US regulatory standards. This raised the level of compliance across the board and it helped Himalaya India make a stronger case for its products with doctors here.
The mantra of quality, safety and efficacy was even more deeply entrenched in the Himalayan psyche and in due course it gave the company its competitive edge.
In 1994, the US FDA implemented the Dietary Supplement Health and Education Act (DSHEA), allowing herbal products that conformed to the new rules and regulations to be sold in the US as dietary supplements.
Himalaya was ready with a range of therapeutic products branded as the 'Care' range.
In the initial years, Meraj Manal worked out of a small space above his garage, which served as a makeshift office, and personally proofread all the labels. In early 1996, two years after DSHEA came into force, Himalaya launched its range of dietary supplements in America.
After the US came Russia, then West Asia, followed by APAC and Europe.
In many markets, Himalaya's therapeutic range is registered as herbal drugs or medicines. Doctors of modern medicine swear by the safety and efficacy of the products, not just in India, where the company reaches out to more than 400,000 doctors, but even in countries like Singapore, Malaysia and Russia, where Ayurveda is not a familiar system of medicine.
The US also served as a crucial training ground for future product development.
The idea to expand the product range beyond pharmaceuticals and explore personal care developed during this time.
Himalaya scientists began to formulate personal care products, which were eventually launched in 1999 under the brand name Ayurvedic Concepts, that later went onto become Himalaya Herbals.
Presently, personal care contributes 38 per cent to the revenues in India.
Despite being a relatively new entrant in the personal care space, Himalaya is one of the top players in the face cleansing and lip care segment, with a fast growing presence in hair care as well.
It enjoys over 20 per cent share in facewash segment, making it the largest brand in the country.
It's amazing how the pieces fall into place.
Today we are a head to heel herbal wellness brand with over 250 products and a global presence.
Every second, ten Himalaya products are bought by consumers around the world.
While there have been many big, glorious moments in our journey, 1975 will remain a very special year for us.
---
Philipe Haydon is the CEO of The Himalaya Drug Company