The problem can be met, according to Shubhashis Gangopadhyay, research director of India Development Foundation, by the government tapping into its own land holdings.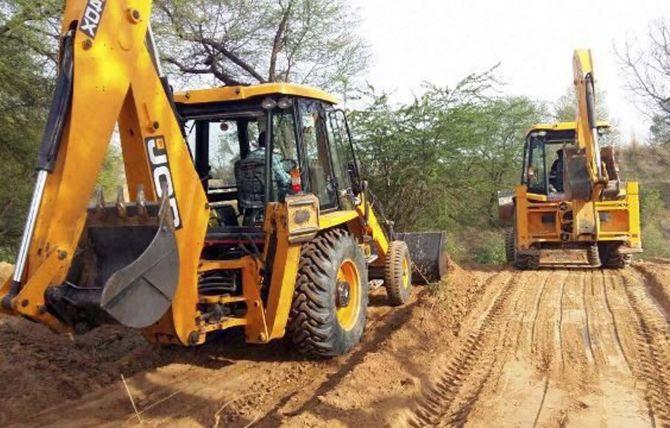 Within three years of the framing of the new land law by the Centre, as many as 280 cases have landed in the Supreme Court using the window the law provides to challenge pending acquisitions.
Yet, land switching from farming to industry need not be a zero sum game as two key studies on land released last week, show.
The numbers are big, when one compares them with the total land acquisition disputes under the older Land Acquisition Act, of 1894 in the same apex court. Between 1950 and 2016, there were 1,269 of them.
The data has been collected by a seminal project run by the Centre for Policy Research (CPR) under its Land Rights Initiative.
'If the above review is any sign of what we are to expect from the LARR Act… litigation will undoubtedly increase and the court is likely to quash many more pending acquisitions,' writes the lead author for the project and fellow at CPR, Namita Wahi. LARR is the acronym for the Right to Fair Compensation and Transparency in Land Acquisition, Rehabilitation and Resettlement Act that came into effect from January 1, 2014.
As the Make in India and Smart Cities programmes begin to translate into renewed demand for land, Wahi's concerns are becoming real. Significantly, some of the fresh protests are affecting State-run companies, too.
In West Bengal, PowerGrid Corporation has seen one of its land acquisitions for a sub-station come under dispute that has led to two deaths; in Tamil Nadu and Puducherry, renewed exploration plans for gas by ONGC led to protests by farmers last month.
The challenge can be offset, according to Shubhashis Gangopadhyay, research director of India Development Foundation, if the government taps into its own land holdings.
He is not referring to the land banks, for industries the various state governments own but those held unused, by their agencies. These are massive tracts, mostly held within municipal limits and so should be eminently attractive for industries. Releasing them can avoid demands fresh land acquisition.
As an example, he points to a study by him and Patricia Clarke Annez as a pilot inventory of public lands held by the Ahmedabad Municipal Corporation. It indicates that 32 per cent of all developed and developable land in the town area -- that is, excluding the road network, water bodies, and railway lines -- is held by the corporation.
What the exercise revealed was gargantuan. It excluded all cemeteries, parks and gardens, heritage buildings, slums, land used for utilities, infrastructure lands and industrial estates.
Again, the authors discarded unused lands already earmarked for public purposes from the valuation exercise. Yet after cutting all of them "the value of potentially marketable excess land is still substantial -- ranging from a low of Rs 20,000 crores at jantri rates to Rs 55,000 crores at market rates".
This amount, the study India's Public Lands: Responsive, Transparent, and Fiscally Responsible Asset Management points out is 'between 84 per cent and 225 per cent of the about Rs 43,000 per capita needed for all urban infrastructure investments over the next twenty years in Ahmedabad'.
The data is the same for all cities, by and large, Gangopadhyay says. There are two advantages to quantifying and managing these tracts. It will free up fiscal resources for investments in other areas and it will make the governments able to provide land to companies without making fresh acquisitions.
Former finance secretary Sumit Bose says this is a practical suggestion. If the municipal bodies, states and Centre sit on such vast tracts and do not make those data public, there is a huge scope for corruption, in parcelling out tracts to favoured parties without public scrutiny. "It is a regulatory risk," he said.
As the CPR study shows, in the absence of such creative use of government held land, the states have begun to instead dilute the rules under the LARR act that has admittedly made getting fresh parcels of land, difficult.
"Administrative reforms including building of state capacity to meaningfully comply with the increased procedural requirements stipulated by the LARR Act… requires a serious mind set shift," Wahi points out. Several states have instead resorted to 'subverting it in both legislation and delegated legislation', the CPR report adds.
Kanchi Kohli, legal research director at CPR who has tracked those dilutions, notes: "While certain states reduce the time period for the conducting of the Social Impact Assessment process (Uttar Pradesh) or do away with it in its entirety, there are others who make reductions in the compensation award (Haryana) or modify the applicability of the retrospective clause. There are also states that directly adopt the provisions in the ordinance (Gujarat) that aim to remove the requirement for consent from the land acquisition procedure".
The risks are these dilutions could create fresh litigation that will make land an even tougher nut to crack. At the same time, unlocking government land is not easy.
Gangopadhyay says a policy announced by the Prime Minister's Office in August 2012 aims to unlock centrally controlled land for infrastructure projects. The policy authorises central institutions to transfer land to other departments of government, to sub-national governmental units, and (even) to public-private partnerships when the land will be used for infrastructure projects.
In practice, the Cabinet freeze on public land disposition remains. He describes it as a choke point.
"Cabinet has become the centralised choke point holding back public land-use decisions and critical infrastructure projects. This highly centralised approach is causing very substantial delays."
The best way, the IDF study suggests, is to identify "surplus" land that is not needed for provision of the public services. He assures there is plenty of it as the Ahmedabad exercise shows.
"Once a list of "surplus" land has been identified, market forces and perhaps other agents of government can focus on the most attractive or useful surplus parcels and express demand for them. There is plenty of similar efforts made abroad in Germany, Canada and Australia to show this is a practical way out."
The CPR study shows it indeed is. Land acquisition cases take on an average 20 years to navigate the courts.
Worse, for the state authorities, the courts have become harsher on lands acquired -- nearly 95 per cent of acquisition cases brought after LARR was enacted were shot down by the Supreme Court. Once shot down, it is back to the drawing board for all those cases, a long drawn out affair.
Instead, land parcels held by government bodies in urban and peri-urban areas can be the way out.
Just as the CPR study discovered, there is a morass of 15 central government and 87 state laws on land, it is sensible to discover, as the IDF study says, how much land the governments hold, at each level.
Photograph: PTI Photo.