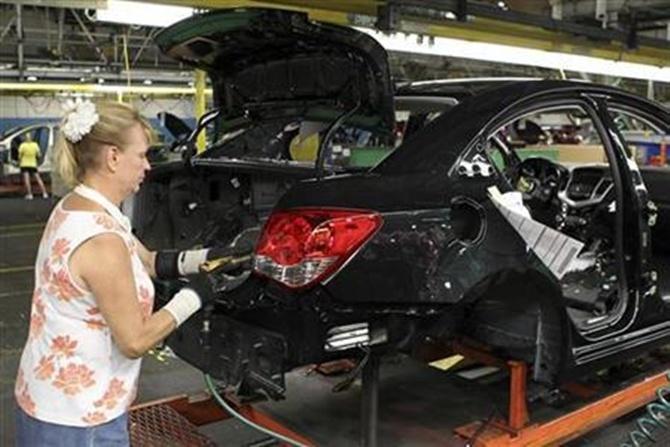 The temporary worker, in his late 40s, stands at the factory gate of General Motors India's Halol unit. He holds a steel lunch box and sports a helpless look.
He pours his heart out on his current predicament, but refuses to share his name. Such is the fear of losing his job early at this ill-fated plant, which the auto major plans to shut down by June next year.
Around 1,100 workers are said to be working at Halol, out of them 500-600 are contractual workers, who get paid a minimum wage of Rs 278 a day or more, depending on their skills.
"There is no hope for contractual workers. We have to start looking for new jobs, but we don't know where to go," says a middle-aged worker outside the plant, who has been working at the Halol factory for the past 13 years.
There are at least 20 to 25 contracts running at the plant, which are renewed every two years.
"Therefore, despite working for so long, we do not have any continuity in service," says the worker — a point even senior officials in the state labour department admit to as a sad truth.
A little farther away from the plant, at Chandrapura village, which also houses an industrial estate developed by the Gujarat Industrial Development Corporation, Vishnubhai Patel, the sarpanch of Chandrapura, seems more practical.
"The plant has been around for decades now. It has not done much for local development as such. It has not been able to create a vibrant ecosystem around it.
None of the villagers works there now. What's the use of having it?" asks Patel, who himself used to work there two-and-a-half years ago as a fork-lift operator. The current mood at the site is of gloom and apprehension.
However, none has stayed away from work for a day even after they were handed out notices. "Everyone has reported to work today. Who would risk staying out in this environment?" asks a worker.
On Thursday, the plant produced 65 Taveras (a utility vehicle). In June, it had produced 1,100 Taveras, apart from the Cruze sedan and multi-utility vehicle Enjoy.
Talking of ecosystem, local supplier sources say 18-20 vendors are dependent on the Halol unit of GM India, including Caparo Maruti, TI Metal, ZF Hero, and KLT Automotive, among others.
"In Pune, around 200 Tier-I, -II and -III vendors supply to the GM plant at Talegaon. In comparison, Halol has not really taken off as an ancillary hub," says a young engineer from a Pune-based engineering company, which supplies fuel tanks to GM.
A senior official with one of the leading vendors of GM, says, "Our unit here (Halol) is dedicated to GM's Halol plant. If this plant shuts down, it is obvious that our unit will shut down, too. It currently employs around 60 people.
The company might relocate us to another unit." However, relocation is not easy. Several workers and officials at Halol (either working with GM or its vendors) express concern on the same.
Nearly 80 per cent of the employees at Halol are from Gujarat, while the remaining are mostly from Maharashtra, Tamil Nadu, and Andhra Pradesh.
"While the migrant workers might opt for a transfer to Talegaon when the time comes, locals would not find it viable to relocate at the same salary," says another official. In response to queries by the Business Standard, Arvind Saxena, president and managing director, GM India, said: "GM will cease production at the Halol facility from June 2016 and consolidate all manufacturing at Talegaon.
Unfortunately, the business strategy does not support manufacturing at two sites. GM is committed to supporting employees at Halol and implementing this transition respectfully.
The company is also considering many FUTURE OPTIONS for the site. We are committed to maximising this $1-billion investment to deliver sustainable profitability over the long term in India." As GM India decides to close down the Gujarat unit and start looking for a buyer (sources say a Chinese auto major is interested in the asset), two reasons that might have triggered the decision seem apparent.
First, Halol could never develop into an auto-ancillary hub even after GM came here in 1996.
Another industrial belt in Gujarat, Sanand, which is now being touted as the Detroit of the East, took off much later, towards the end of 2008, when Tata Motors relocated its Nano project to this dusty town off Ahmedabad.
Six and a half years later, despite the Nano not taking off as expected, the area has managed to draw leading global vendors and original equipment manufacturers such as Ford India, Getrag, Motherson Sumi and Magna International, JBM Auto, Metzeler Automotive, Cosma International, Mahabal Metals, and Visteon, among others.
In fact, an adjoining belt, Mandal, is also coming up fast with Maruti Suzuki parking its first plant outside the Delhi region. Honda Cars India and Honda Motorcycle and Scooter India are also coming up close by.
It is estimated the region would draw an INVESTMENT of Rs 15,000-20,000 crore in the coming years. Halol, in comparison, has been able to draw Ceat Tyres, Hero MotoCorp (plant under construction), and Apollo Tyres in about two decades. Second, labour unrest.
A rarity in an industry-friendly state such as Gujarat, GM India's Halol plant has been mired in controversies related to labour unrests.
There have been repeated strikes and sit-outs plaguing the plant since 2010. A senior official at the state labour department says: "Apart from the GM unit, there have not been any such incidents in any of the units working at Halol.
There are several multi-national companies present in the belt." According to him, most permanent workers at the site are already expensive, as they have been on the payroll for long.
"When a company, which is going through hard times (GM India's sales have been dwindling in the past few years) decides to expand or INVEST, it would wish to be asset-light. Employing freshers at Talegaon can reduce GM's wage bill, as well as opt for fresh contracts with temporary workers and new terms of service," he adds.
Sources claim that 68-70 per cent of the workers at Halol are permanent ones, while the balance is tilted towards contractual workers at Talegaon.
Sources add permanent workers get paid between Rs 14,000 and Rs 30,000 a month depending on their skills and years of service.
While the company did not answer mails sent to it till the time of going to press, it has mentioned in the letter handed out to the workers that the matter of compensation to workers is subject to peaceful and seamless operations during the year beginning from August 2015. For that matter, talking to the Business Standard, GM's global chief executive officer Mary Barra had hinted that the key is to drive efficiency.
"We will now have the efficiency at a plant where we can achieve long-term sustainable profitability, with focus on our investment," she had said.
Is Halol, therefore, an aberration to the otherwise industry-friendly image of Gujarat? State industry department officials agree.
"The labour troubles at Halol are definitely an aberration. There have not been major labour trouble in Gujarat resulting in loss of man-days. The company might have taken a decision in line with its future strategy, and cooperation from the state government is not an issue," says a senior official in the state industries department. Senior GM India officials, including former managing director late Karl Slym, have praised time and again the industry-friendly attitude of Gujarat's bureaucrats.
"At one point of time, it used to take hours to travel from the Vadodara airport to Halol. But thanks to the lovely roads that have come up, it is now a matter of minutes," Slym had once said, appreciating the infrastructure development in the state.
With 110,000 cars per annum capacity going away, Gujarat's installed capacity could fall below 500,000 units a year. However, with 110,000 -125,000 units a year (Honda Cars India) and 750,000 units a year (Maruti Suzuki) lined up, it won't take long before the numbers soar up again.